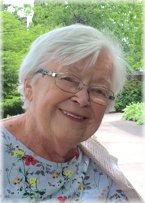 SCHENK, Riet - Born in Rijssen, Holland – May 16, 1931. Passed in Georgetown, ON Canada – July 7, 2016.
In her 86th year, Hendrika Pietertje Schenk (nee Struijk) passed away peacefully at the Georgetown Hospital to join her Heavenly Father.
She will be greatly missed by her husband & best friend Tom Schenk as well as her children: Diane and John Leferink, Irene and Berny Menken, John and Shawna Schenk, Harry and Allison Schenk and Debbie and Jim Kortleve.
She will be grieved by her 22 grandchildren, her 23.5 great grandchildren, her sister, brothers, sisters in law and brothers in law.
Finally, Riet's passing will be greatly felt by her friends, neighbours and her church family.

Riet was born May 16th, 1931 in Rijssen, Holland. She was the third child (of 11) born to Arie and Egberdina Nijland Struijk. In 1949, the Struijk family boarded a plane and immigrated to Canada. After a short stay in the Holland Marsh, they moved to Cochrane, Ontario where Riet met the love of her life, Tamme Schenk. They married on May 21st, 1954 and over the next 9 years they grew a family of five children - 3 daughters and 2 sons. Riet was happy to settle in Georgetown and only moved 4 times over 62 years of marriage with Tom.

She loved her community and diligently volunteered her time to the Red Cross, her church community and the Progressive Conservative Party. She was a daughter, a sister, a sister in law, a wife, a mother, an Oma, an Oma Oma, a friend, an employer, an employee and a child of God. She loved her earthly life very much, but yearned for everlasting life with Christ.

In an envelope marked "Funeral," she left us the following message written on a little scrap piece of ripped paper: "'The Lord is my light and salvation… whom shall I fear – [Psalm] 27' (Riet)."
Friends will be received at the Georgetown Christian Reformed Church, 11611 Trafalgar Road, Georgetown, on Monday, July 11th from 2-4 and 7-9 p.m. A Celebration of Riet's life will take place at the Church on Tuesday at 11:00 a.m.
In lieu of flowers, donations to the Red Cross of Canada or Georgetown Hospital - Complex Continuing Care would be greatly appreciated.
{fastsocialshare}