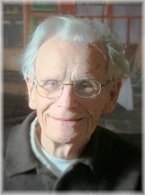 BLAND, Henry John - Passed away peacefully in Milton District Hospital on October 2, 2016 at 91.
He is survived by his wife of 68 years, Anne, children Patricia, New Glasgow, NS; Geoffrey (Brigitte Cutler), Springfield, Illinois; Rosemary (Fabian Beaton), Milton, Ontario; Elizabeth (Paul MacInnis), Milton, Ontario; ten grandchildren and nine great grandchildren. He was predeceased by his son Robert and daughter-in-law Hilda.
Born in London, England on July 9, 1925 he was orphaned at the age of 9 but, thanks to an inspired aunt, he won a full scholarship to Queen Elizabeth Hospital, Bristol, where he was a boarder until he graduated in 1943. That same year he was admitted to hospital for six months, most of it spent in a body cast, and it was there that he met his future wife - the most tolerant nurse on his ward, a quality she retains to this day!
He then went on to the University of Bristol where he completed his medical education in 1950, followed by post-graduate training in obstetrics and internal medicine. He was chief resident at hospitals in Bristol and Rochford prior to taking up general practice in Shoeburyness, Essex.
He soon tired of life under Britain's National Health Service (lamenting that he couldn't do anything but write prescriptions) and moved to Canada with his wife and five children in 1963. In his quest to live somewhere he could practice "real" medicine he moved the family to Canso, Nova Scotia where he had his own 10-bed hospital to play in.
In 1967 the family moved to Antigonish where he set up another general practice so the children could live at home while attending St. Francis Xavier University. He took additional training in anesthesia and ear, nose and throat work to expand his horizons in those days, before Medicare, when billing for services and getting paid for them were two totally different things.
Leaving Antigonish in 1981 he became Medical Director of Maritime Medical Care and MSI, then Medical Director for the Nova Scotia Department of Health and, in his retirement, Registrar of the College of Physicians and Surgeons of Nova Scotia. But that only tells part of the story.
Henry loved to tell stories (tall and short), stir the pot and be in the thick of whatever was going on. So he took on the role of Mayor of Canso during his time there and was active in medical politics with both the Provincial Medical Board and the Medical Council of Canada.
He loved words, never finished a meal without consulting one of his 17 dictionaries about something, was a great raconteur and could charm the birds out of the trees - qualities he retained until his death. Even though he suffered from severe memory loss in the last few years, he never ceased to throw out witty comments and he could spot a grammatical error at 50 paces.
Henry died as he had lived - on his own terms and in his own time.
Memorial services will be held in the chapel at Seasons Retirement Community, 760 Bronte Street South, Milton, Ontario on Wednesday, October 5th at 3:00 p.m.
Family flowers only. Donations can be made in his memory to the Salvation Army, Milton.
{fastsocialshare}