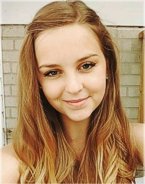 HOPKINS, Sarah - Our wonderful Sarah passed away on October 7th, 2016 at the age of 19.
Sarah was deeply loved and cherished by her mom Janet, her dad Greg, her brother David (Dee) and her sister Catherine (Dakota). She will be missed dearly by her Nana Pat, her Grandpa Barry and her Grandma and Grandpa Beryl and Chuck, along with her aunts and uncles, cousins and many friends.
We are so thankful for the opportunity to have had Sarah in our lives, and we are so glad there are many good memories to hold onto.
Sarah had a kind, generous heart and cared deeply for others. She was fiercely loved and cherished by our family, and she knew that.
Life is so fragile. The pain of losing such a young life is absolutely unimaginable. It is reassuring to know that she's safe and wonderfully well in the presence of our loving God. We miss you baby