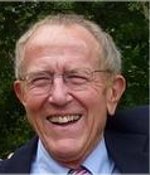 SHOREY, Roger Arnaud - The sun has set on a beautiful life! After a very brief illness, Roger Arnaud Shorey passed away with his family by his side on October 7th, 2016.
He will be truly missed by his wife and partner of 44 years, Mags Shorey, his three children Susie (Jamie List), Preston (Steph), and David (Casey), and his eight grandchildren (Kate, Spencer, Emma, Oliver, Maggie, Sullivan, Hailey and Claire) as well as his step sisters Judi (Mike) Andrews and Jerri (Don) Hall. Roger was born in Ottawa in 1942.
Roger was predeceased by his father Eric, his mother Margaret (Bastow) and his step-father Arthur Bowes.
The two most important things in Roger's life were family and business, in that specific order. He was very quietly content with the satisfaction that he was remarkably successful at both.
It would be contrary to his personality to speak of his business accomplishments, but with respect to family one need look no further than the countless hours spent with his children and grandchildren at Snubbin's Point and Caledon Ski Club, playing Monopoly, watching skits and dance rehearsals, and just taking an active interest in everything and everyone that surrounded him. But at the end of the day, it was always a good sunset that required a "call to arms" that everyone must come and watch; it was the simple things that made him happy. There is genius in simplicity, and Roger had that genius.
A special thank you to the compassionate staff at the Oakville Trafalgar Memorial Hospital for their exceptional care and support.
A service will take place at St. Jude's Anglican Church, 160 William St., Oakville on Tuesday, October 18th at 2:00 pm. Reception to follow at Mississauga Golf and Country Club, 1725 Mississauga Rd., Mississauga.
In lieu of flowers, donations can be made to the Oakville Hospital Foundation or a charity of your choice.
{fastsocialshare}