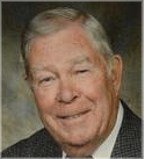 PARK, Kenneth William - Ken passed away suddenly and unexpectedly due to complications related to a battle with brain cancer on February 4, 2017.
Ken was born in Halifax, Nova Scotia on February 17, 1932, son of the late James Park of Glasgow, Scotland and Clarice Middleton of Lancashire, UK.
He left this world just two weeks shy of his 85th birthday.
Ken was predeceased by his wife and love of his life Ernestine (née Curotte, April 22, 1934 - June 3, 1995) and brother, Allan James (July 3, 1929 - April 22, 1997).
He is survived by son Arthur James, daughter Karen Audrey and granddaughter Katelyn Ann - daughter of James and Mary Ann O'Neill-Park. He also leaves behind his companion of 20 years and dear friend of the family, Tessa Chalmers of Oakville.
Ken's early years were spent on Egan Avenue in Verdun, Quebec, where he attended Verdun High School from 1945-1950. After graduating, he worked for an insurance company and then with Bell Canada before pursuing his dream of flying.
Several of his teenage summers were spent working as a lifeguard at the Verdun Natatorium swimming pool on LaSalle Boulevard. That was where he met his future wife, our mother, Ernestine. The two decided to marry early in their relationship, but maintained a seven-year engagement while Ken accumulated flying hours. The couple were married on August 31, 1957.
Ken earned a private pilot licence on a scholarship with the Canadian Air Cadets and worked at several jobs in order to accumulate the needed flying time to apply for a pilot's position with Trans-Canada Airlines (now Air Canada). He was hired by the airline in 1956 and began his career flying domestic routes throughout Quebec, Ontario and Atlantic Canada on the Douglas DC3.
During his first few years with the airline he moved onto the Canadair North Star and then the Lockheed Super Constellation flying to Europe and the Caribbean. As those aircraft were retired, Ken moved to the Vicker's Viscount and Vanguard turboprops, and spent the next several years on North American routes.
He achieved his Captaincy in the mid-1960s before transferring to the Douglas DC9 and eventually to the Boeing 727. He had taken a leave from line flying at that point and was instructing on the DC9 when an offer came to join a team of pilots that would become the company's first instructors on the 727. He spent several months at Boeing's Seattle, Washington, headquarters where he was frequently joined by Ernie so the pair could spend time together during his training.
He transferred his base of operations from Montreal to Toronto in 1977. At around that time, he switched off passenger routes and began flying Douglass DC8s on air cargo routes to Europe. He later qualified on the Boeing 767 and later the Lockeed 1011.
Ken retired from the airline in 1992 at the age of 60 when the Lockheed 1011 was retired from service. He enjoyed what might be euphemistically described as an uneventful career, accumulating the same number of landings as takeoffs. Over his 36-years and 21,909-hours in the air, he never leaned heavily on the hundreds of simulator-emergency-training hours he accumulated.
He was a pilot by trade, but a golfer at heart. Similarly, his time on the links could be classified as uneventful as well, carting scores in the low 80s to high 90s for the most part. There were two holes-in-one recorded and duly paid for with rounds of drinks in the clubhouse afterward. For Ken, the joy of golf was not so much in a lower score, but in a game well played. He was a strategist and a meticulous player who would work a hole until he got it right over several rounds.
He also enjoyed boating, a throwback from his Verdun days, when, like many of his friends and kin, everyone owned a small motorboat and spent summer days "down at the wharf" along the shores of the St. Lawrence River. Later in life, he took to power-boating. Together with his first mate, Ernie, they cruised the inlets and islands of Georgian Bay, north of Toronto, stopping frequently at "Dock Lunch" in Penetanguishene, Ontario for what he called one of the best milkshakes to be found anywhere.
During the months following Ernie's passing in 1995, Ken had the good fortune to meet Tessa Chalmers, who had lost her husband, Ian, a year earlier. Together, Tessa and Ken found strength and companionship in a friendship that lasted until his passing.
Ken was a devoted husband and a generous but disciplined father. The family never went without, but nor were we showered with luxuries. Ken was a firm believer in having to earn what one really wanted, but was always ready to provide assistance and advice along the way. He was a kind man, and scrupulously fair.
Our Dad was one of the kindest and gentle souls on this earth. He was a smart, dedicated and devoted man to whom family was paramount. We trust that he and our Mom are now reunited and sharing some little piece of heaven.
Ken was diagnosed with Glioblastoma in September, 2016 and underwent surgery to remove a tumour. Unfortunately, the cancer continued to progress slowly and he succumbed to pneumonia-like complications on February 4 with his daughter Karen by his side.
Ken resided happily and comfortably during his final months at the Amica Assisted Living Centre in Bronte. The family is extremely grateful to Amica's devoted staff for making his time there as pleasant as could be.
Visitation will be held at the Kopriva Taylor Community Funeral Home, Oakville, on Monday, February 6th from 7-9 p.m. and Tuesday, February 7th from 2-4 and 7-9 p.m.
Funeral services will be held Wednesday, February 8th, at St. Aidan's Anglican Church, 318 Queen Mary Drive, Oakville, at 11 a.m. Interment to follow in Oakville. All are invited to a celebration of Ken's life at St. Aidan's Church following the interment.
Donations to the Brain Tumour Foundation of Canada would be welcomed by Ken's family.
{fastsocialshare}