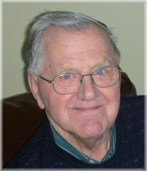 TYERS, Stephen - July 29, 1919 - February 7, 2017
It is with deep sadness we announce the passing of our father Stephen Tyers, into the presence of the Lord.
Dad was born July 29, 1919 in Redbridge, Ontario, just outside North Bay. Dad met our mother Olive (nee McCullough) at Keswick Camp in Muskoka after the war.
They raised five children while working at Inco mines in Sudbury, before moving the family to Burlington in 1965.
A wise and caring father, Dad is survived by his loving family, daughter Judith McCann, sons David (Karen), Paul (Peggy), Donald (Barbara) and Philip (Suzanne), his grandchildren Jeremy, Jennifer, Stephanie, Jonathon, Jillian, Rachel, Christopher, Haley, Chelsey and Sarah and seventeen great- grandchildren, whose names he was proud to remember.
Dad was predeceased by his beloved wife Olive (2008), brothers - Livingston, Cecil, Stewart and Wilber, sisters Ruth, twin sister Dorcas and Helen.
Dad is survived by a sister Christabel and brother Charlie (Pauline). Dad's work ethic was awe inspiring, his love for his family knew no bounds and he passed along a gift that can't be seen, counted, or measured, it's the most priceless gift he could pass along - a spiritual inheritance, which money can't buy and death can't take away.
He lived a pattern of obedience, his faith conquered the trials of life, he had a heart of forgiveness, he lived an orderly lifestyle, he had a servant's spirit, his hand was generous and his love was sincere.
Dad had a reverence for God's Word and he willingly shared his faith with many over the years and in recent years the many caregivers.
We grieve our loss, but will remember his parting words "I've waited almost 98 years to be here". In my Father's house are many mansions: if it were not so, I would have told you. I go to prepare a place for you. - John 14:2
Visitation at Smith's Funeral Home, 1167 Guelph Line, Burlington, on Monday, February 20, 2016 from 3 - 5 and 7 - 9 p.m. A Funeral Service will be held in the Chapel on Tuesday, February 21, 2017 at 1 p.m. A reception to follow at Burlington Golf and Country Club.
For those who wish, donations to the Canadian Bible Society would be sincerely appreciated by the family.
{fastsocialshare}