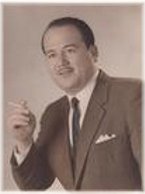 RETSINAS, Spyridon 'Spyros' - (September 16, 1932 - March 16, 2017) -
Spyros was born on September 16, 1932 in Magoula, Sparti, Greece. In 1958 at age 25 he travelled to Halifax, Canada on the "Queen Frederica" ans was united in Toronto with his fiancée and wife, Helen of 59 years.
Spyros worked very hard all his life and retired at age 65 as a bartender from the Four Seasons Hotel where he worked for 25 years. He was very devoted to his family and enjoyed many, many years of retirement surrounded by them.
Spyros, (aged 84), passed away peacefully surrounded by his family on Thursday, March 16, 2017.
He will be forever remembered and missed by his wife Helen and their daughters, Kathy (predeceased Bill), Patty (Cathy) and Angela (John). His precious grandchildren, Angie, (Micheal), Harry (Alex), Noah, Averey, Cristopher, Mateo and Ava and great-grandchild, baby Violet. He will also be missed by his siblings and extended family.
Visitation will be held at Kopriva Taylor funeral home, 64 Lakeshore Road West, Oakville, from 6 – 9 p.m. on Monday. A funeral service will be held at 11:00 a.m. on Tuesday, March 21st in the Kopriva Taylor Chapel. Interment will take place at St. Volodymyr Cemetery, 1280 Dundas Street West, Oakville. Please join us immediately afterwards for a traditional Greek luncheon at St. Volodymyr Cultural Centre.
Memorial donations in memory of Spyros may be made to the Alzheimer Society of Ontario, 20 Eglington Ave. W., 16th Floor, Toronto, ON, M4R 1K8 or visit http://www.alzheimer.ca/on for online donations.
{fastsocialshare}