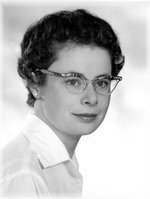 GORWILL, Miss Ruth Jean - (1930 - 2017) -
Longtime teacher, mentor and Ontario Secondary School Inspector, beloved daughter of Dr. James G. and Mrs. Mildred E. Gorwill, sister of Mary Margaret Harris (nee Gorwill) and Richard Gorwill, sister-in-law of Patricia Gorwill (nee Atkins), aunt of David, Beth, Leslie, Ian and Sheila, great-aunt of Lauren, Aimee, Jon, Katie, Madison and Stephanie, passed away peacefully on April 11, 2017 in Burlington, Ontario.
We celebrate her full and varied life, but we will miss her quick wit, good sense and interesting stories.
Her many accomplishments included a BPE (Arts & Science & Physical Education) from UBC, graduation from Ontario College of Education, an MS Ed. (Masters of Science of Education) from Niagara University in New York State, Director of the Ontario Athletic Leadership Camp (Leadership Program for 10 summers) and the appointment as an Ontario Secondary School Inspector.
She taught school at Lord Byng Secondary School in Vancouver for two stints, taught at Blakelock School in Oakville and also spent a year in London, England teaching. After returning from England, she settled in the Hamilton area and taught at Barton Secondary School on the Mountain. Then she became Department Head at Westdale Secondary School, also in Hamilton, where she stayed for four years.
The Ministry of Education then appointed her as Secondary School Inspector, and she also became Director of the Ontario Athletic Leadership Camp on Lake Couchiching. She went back to a more hands-on role on an exchange program as Vice Principal at Sir Winston Churchill Secondary School for a year. Her career in education finished back in Secondary School Inspection for the Province, from which she retired in 1989. This gave her more time to spend at her beloved life-long Muskoka cottage on Three Mile Lake.
An accomplished athlete all her life, Ruth took the new free time to golf, play tennis, waterski, sail, canoe and boat. In the winters, she was an avid skier as well. It was in Muskoka that she so patiently taught every one of her nieces and nephews how to sail the boat she built herself, to waterski and to canoe. None of those kids were going to go through life not knowing the J-stroke. She and her dear friend Marnie Riddle took their many nieces and nephews on a lengthy canoe trip to Algonquin Park that none of them would ever forget.
If there was anything at all that needed fixing around the cottage, she knew how to do it and nothing intimidated her. Ruth pursued another hobby that she became very proficient at, which was highly detailed bird carving. Her exquisite carvings are proudly displayed in each of her family's homes.
She was also a devout friend of Ms. Alma Weinberger, recently deceased. They traveled to many places together, including Germany, Australia and Palm Springs for 15 years. They cruised all over Europe, Russia and the Danube. Since moving to Burlington, she was a member of the Tansley United Church. So many good friends and family will miss her.
Visitation will be at Tansley Untied Church, 2111 Walkers Line, Burlington, Ontario on Tuesday, April 18th at 10 am, followed by a Funeral Service at 11 am. A reception will follow at the church.
For those who wish, donations in memory of Ruth to the Canadian Cancer Society, the Alzheimer Society or Tansley United Church, would be sincerely appreciated. Arrangements entrusted to SMITH'S FUNERAL HOME, Burlington.
{fastsocialshare}