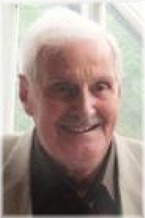 MAGUIRE, Joseph - (July 11, 1926 - April 15, 2017) -
It is with great sadness that we announce the passing of Joseph Maguire: wit, raconteur, world traveller, avid reader, crossword enthusiast, master of Sudoku, gardener, political commentator, and Squire of Glens Wood.
A full banquet prepared in Joe's honour awaits him in Irish Heaven. The eternal banquet will be attended by the members of the Maguire Family who have predeceased Joe: his father Joseph, his mother Kathleen, his brother Brendan (Barney) and his sisters Nelly, Molly and Sarah.
What will never be forgotten about Joe is his great and abiding love for his wife of 54 years, Janet, for his children Martin (Kerry), John (Martha), Anne-Marie, and Terry (Pina), and for his grandchildren (Tyrone, Dylan, Rhys, Erin, Neil, Kathleen, Claire, Joseph and Chiara).
What will never be remembered are the many punchlines to the countless jokes that Joe left unfinished, as well as the countless numbers of lost household items, some of which may be rusting away on the neighbour's roof.
James Joyce was remembered as "the strangest and most original figure which Ireland gave to Europe in [his] generation". It may be said that Joe Maguire was the most original figure which Ireland gave to Canada in his generation.
A grocer who worked both full-time and part-time for 56 straight years, our father worked hard at every thing he did: raising his children, spoiling his grandchildren, tending his garden, shouting at CNN, and serving unofficially as the Irish Tourist Board's leading spokesperson in North America, promoting the land of his birth to any one who would care to listen, and to many who didn't.
A proud native son of Mountjoy, Omagh, County Tyrone who left to find temporary refuge in Toronto, Joe ended up staying for over 60 years, much of that time working in Oakville and Thornhill, living in Mississauga, and not-so-secretly plotting to overthrow the "tyrannical" rule of Hazel McCallion.
Joe was well-known to customers of Loblaws in Oakville as the hardest-working, and most talkative, man in the grocery business. And he was well known to many on Fontwell Crescent as the neighbour most likely to ask for help with his plumbing, heating or electrical. What he gave in return to all who knew him was a laugh, a story and a smile. What he gave to his family was his endless energy, his hard work, his boundless generosity, his great passion for life, his indomitable spirit and his unique sense of humour.
Funeral services will be held at St. Christopher's Roman Catholic Parish, 1171 Clarkson Rd., Mississauga on Thursday, April 20th at 11:00 am.
Visitation will be held at Kopriva Taylor funeral home, 64 Lakeshore Road West, Oakville on Wednesday, April 19th from 5 - 8:00 pm.
{fastsocialshare}