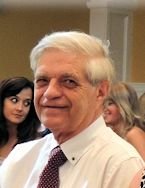 BALE, Brian Campbell - On October 1, 2016 we lost one of the best. Brian Campbell Bale (age 69) died in his home in Carlisle, with his loving wife of 46 years, Gale, by his side - after a fast and furious battle with Cancer.

Brian was a pioneer of Women's Hockey in Flamborough. He started convening the original Flamborough Girls Hockey league in 1984, at a time when very few thought that girls should be permitted to wear hockey skates. For over twenty years he battled for ice time,… advocated for equal treatment, and paved the way for thousands of local girls to fall in love with the sport; girls who would not have had the opportunity to play hockey but for Brian Bale's love of the game and belief that everyone has a right to play.

Brian Bale loved hockey. He grew up in downtown Hamilton, and proudly wore #16 because Murray Oliver, a local neighbourhood kid who made the NHL, was kind to him and sported that number. He wore that jersey for over 60 years, and his tradition lives on; a daughter and granddaughter each now wear #16 too. Brian was a regular fixture at the Carlisle Arena since it was an outdoor rink and rarely a weekend has gone by where Brian hasn't been on the ice as a player, coach, or referee. He particularly loved refereeing for the Ontario Women's Hockey Association, offering smiles and kind encouragement to young girls as he dropped the puck – he did so regularly until this season. Each year the FGHA awards the "Brian Bale Award", to an individual player who embodies the "spirit" of hockey by demonstrating sportsmanship, leadership, commitment, respect and love of the game. For female hockey players in Flamborough, this upcoming hockey season just won't be the same without him.

Brian graduated from McMaster University with a Bachelor of Commerce in 1969. He spent a career in Finance working at Clarkson Gordon, Dairy Queen, the Ontario Jockey Club, Canadian Systems Group, and the Royal Bank of Canada. He collected stamps and hockey cards, dabbled in horseracing, ran an NFL Football pool for over 30 years, and loved a good debate on just about any subject. Brian retired in 2011 but didn't slow down. He continued to do part-time income tax work at Valeriotte Accounting in Guelph, Ontario and balanced a very active spectator and babysitting calendar; watching his grandchildren's hockey, soccer, baseball, and music recitals. His presence will be very sorely missed at each and every event.
Brian leaves behind his wife and best friend of 46 years - Gale, and their three daughters and sons-in-law Ellie Bale and Dale Devine, Lauren Bale and Michael Bordin, and Stacey Bale and Brian Morrissey, as well as his five beloved grandchildren Trent, Brock, Mia, Elle, and Dain and three step-granddaughters Emily, Hannah, and Julia. He will be missed by his sister Barb (and brother-in-law Don) Stevens, mother-in-law "Bubbles", sisters/brothers-in-law Shelley and Rod Ritter, and Rand and Pat McIntyre, his nieces and nephews Emily, Timothy, and Gregory Stevens and Nick and Kailey Ritter, and countless wonderful friends.

Visitation will be held at Kitching, Steepe & Ludwig Funeral Home, Waterdown on Monday, October 3, 2016 from 3-5 p.m. and 7-9 p.m.
Memorial Service will be held at CARLISLE UNITED CHURCH, 1432 Centre Rd., Carlisle on Tuesday, October 4, 2016 at 3 p.m. Interment of Cremated Remains in the Churchyard Columbarium. Reception to follow in the Church hall.

The Bale family wishes to thank our friends for your love and support during this difficult time.
In lieu of flowers, please consider making a donation to the Juvenile Diabetes Research Foundation Canada or the Salvation Army.
{fastsocialshare}