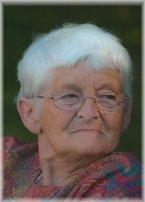 STREUN, Henrica Johanna 'Rita' (nee Verhees) - (May 4, 1928 - April 1, 2017) - Born May 4, 1928 in Aalst in the Netherlands, born premature at a time when "premees" were not expected to live.
She began her fight that day and had never stopped, not in the sense of a physical fight but on several fronts throughout her life.
The eldest of five children "Rita" grew up during WWII in a time of scarcity when food and heating supplies were scarce. She would sometimes wait in line for 2 to 3 hours to get a single egg for her ailing father. This time taught her to be careful with what see had and never to waste. She became very adept at sewing and knitting to make the best use of what they had. She made clothing and shirts, pants and socks go the extra mile.
The liberation of the Netherlands by the Canadian soldiers had a profound effect on Rita and Husband Gerard and they immigrated to Canada in 1954 aboard the Grote Beer (Great Bear) immigrant ship.
At first living in a trailer to make a home while building their own home, they had 3 sons Hank, 1955, Peter, 1956 and Michael, 1961. Rita had a back surgery in 1959 and was expected to have less mobility for the rest of her life. Not so, she never looked back and made a complete recovery.
Mom kept us busy and made sure our academics were monitored and that we did well. We can remember mom taking us and neighbourhood children in a fully packed Datsun 510 to hockey, swimming, soccer, baseball, music, or anything else we showed interest in. She was always active and interested in our development.
In 1969 Denise was born into the family. Little did we know that this young girl would have such a profound impact on the family, the neighbourhood, community and in some sense our nation, specifically as it relates to special needs children being integrated into the "regular" school system. Rita could never accept that Denise could never learn and removed here from institutionalized day schools and started to homeschool Denise. Within 5 years of doing so, the developmental psychologist assigned to Denise considered a trial period of integration of Denise into a "regular" grade 5 classroom. Denise excelled in reading and spelling, in fact her wise teacher at that time chose Denise to help the other kids (these were the ones teasing and bullying her) to help them correct their spelling mistakes. All this attributed to the leadership of mom in our home classroom, it was truly a Family project!!
Dad was the thinker and visionary that could help mom make sense of her next phase of teaching and the instructional media to support it. Rita was the teacher and the driver behind her academics. Rita also challenged Denise in athletics. In her prime Denise could whip any of her brothers in any stroke in the pool. All this and while raising three accident prone boys too. Add again to this, Rita also fostered at least 20 children through our home, providing love, encouragement, mentoring and stable environment.
In 1981 Dad suffered a massive coronary and Rita helped him pull through. Little did we know but we found out many years later that Dad was not expected to live 1 or 2 years more. With Rita's help dad managed to survive on another 17 years and was even able to return to work for about 10 of those years. The last 6 months which he enjoyed with the last grandchild born into the family.
More Struggles: July 27, 1983 Mike had a motorcycle accident that nearly took his life. A paralysis that resulted left his dominant left arm without function from the shoulder joint down. Rita researched to find any treatment option to help mike rehabilitate back to a normal life. She was a constant source of encouragement and hope for Mike and a key factor in him moving on in life despite the handicap that he had. Rita also spent countless hours figuring out ways for Mike to cope with everyday routines. He was almost starting over and needed as much help as possible. The bottom line is Mike returned to work after the Christmas holidays that year. She continued to help him as much as she could to make things easier for him to move forward. Without her help I can honestly say my life would not have turned out a good as it has, thank you Mom!!!!

So that's what we mean that there was always a struggle for Rita to deal with, she was always dealing with something, what has been penned here is just a few things. Despite this she continued to offer love and hospitality to everyone and NEVER was self-seeking. She always spent her time, talents and treasures to bless others. I think all of us looking back wished she had of spent some of that for herself.

We should have mentioned this at the beginning, Mom was a faithful servant of God and trusted him implicitly. She was a prayer champion for all who were close to her. I have her to attribute for the faith I have today. She was to all who were close to her a suburban Mother Teresa.

Visitation at Bay Gardens Funeral Home, 947 Rymal Road East, HAMILTON on Tuesday, April 4th from 2:00 pm - 4:00 pm and 6:00 pm - 8:00 pm. Vigil Prayers for Rita will be held Tuesday evening at 6 p.m.
Funeral Mass will be held at Corpus Christi Roman Catholic Church, 1694 Upper James Street, Hamilton on Wednesday, April 5th at 10:00 am. Burial to follow at Resurrection Catholic Cemetery, Ancaster.
For those who wish, memorial donations made to the Down Syndrome Association of Hamilton would be appreciated.
{fastsocialshare}