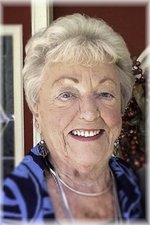 MOFFATT, Betty Rae - Wife, mother, grandmother, friend, volunteer. Passed away suddenly, but peacefully, at home on Monday, March 13, 2017 in her 83rd year.
Survived by her husband of 61 years, Bruce Moffatt; her son Bruce Jeffrey Moffatt (Sandra, Connor, Christopher); her daughter Carol Ann Moffatt (Tony Aymong); her brother John Moore; and predeceased by her son Andrew James (Andy) in 1979.
Betty was born and raised in Toronto but her heart found the Haliburton Highlands at the age of five when, in 1939, her father bought a lot on Beech Lake. That purchase sparked the beginning of what's now four generations of memories made of shenanigans, laughter, family, dear friends and a spectacular sunset view across the lake. The one-room cabin expanded over the years and when Betty and Bruce decided to 'retire to the cottage', Tony built them a beautiful lakeside home where life was grand and even more wonderful memories were created.
Betty was a stay-at-home mum for many years but when she went back to work she found her way from secretarial and bookkeeping work to corporate leadership where, when she retired, she was the Corporate Secretary as well as the Vice President of Legal Affairs for MDS Health Group.
For many years she was the only woman at the boardroom table and throughout those years she acquired tremendous business savvy as well as impressive corporate knowledge and skills. Betty was the ultimate 'super mom' who could not only bring home the bacon but also fry it up with finesse while wearing a fabulous business suit and heels while planning a pool party in her head. How she did it all we'll never understand.
In Haliburton, Betty's retirement volunteerism included lengthy and dedicated service on the boards of HHHS, Canoe FM and the Stanhope Museum where her corporate knowledge and broad experience provided valuable foundational advice and ongoing guidance. Throughout these years she influenced and impacted many people in ways still being discovered.
Betty and Bruce discovered old neighbourhood friends in the Highlands and, together with lifelong friends from the city and new-found friends in Haliburton, they forged a fun-filled retirement with golfing, curling, snowmobiling, extensive travel and throwing terrific parties. And there was always that sunset view...
Betty was good, kind and honest - and more than a wee bit fierce. She was strong and smart and wise, and so very proud of her family. They just don't make 'em like her anymore. She had an indomitable spirit which never flagged, even when faced with serious life experiences and health crises.
She was truly a lady; she will be fondly remembered and greatly missed by all who had the pleasure of knowing her.
Cremation has taken place and there is no funeral service. Betty (and Bruce) wanted to be interred back in Toronto with their son, Andy, and that will take place at a later date.
Betty loved a party so in her honour, a celebration of her life is being held on Saturday April 1st at Pinestone Resort, 4252 County Rd.,#21 Haliburton from 1pm to 4 pm. Please join us for some cheer and camaraderie. Feel free to share a story of Betty and what she meant to you or your organization. Arrangements entrusted with Gordon Monk funeral home, Minden.
In lieu of flowers or donations please do something kind for someone.
{fastsocialshare}