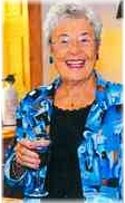 BAIRD, Lois Irene (nee Pollock) - (June 17, 1927 – May 4, 2017) -
On Thursday, May 4, 2017 at 3:30pm in Lindsay, Ontario, Lois Irene Baird left this life.
She was a loving daughter to John Andrew Pollock and Irene Pollock (nee White) (deceased), sister to Betty Waldie (nee Pollock), wife to James Baird (deceased) and mother to Calla Baird (deceased) and Carolyn Lois Baird.

She grew up in Lambton County and never lost her love of the land, she was an excellent gardener, passing on her knowledge and expertise to her daughter Carolyn.
Most of her adult life was spent in Deep River, Ontario, where she worked as a chemist at the Atomic Energy Facility in the Chalk River Nuclear Plant, Laboratories and Research Facility. She has lived for many years in Lindsay, Ontario.
An intelligent woman educated in the sciences, she appreciated intelligence, hard work, good food and a sense of humour. She loved to travel and had been almost everywhere in the world. She was determined, hard working and a true participant both in her family and her community. She will be missed for her laughter, sage advice, high standards (which made all of us want to go that extra mile), can-do attitude and most of all, for her love.
Funeral arrangements entrusted to the STODDART FUNERAL HOME & CREMATION CENTRE, 24 Mill Street, Lindsay K9V 2L1 (705-324-3205).
Online condolences may be left at stoddartfuneralhome.com.
{fastsocialshare}