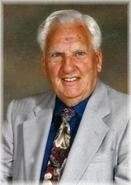 JONES, Lyndon 'Lynn' - Peacefully on September 16, 2016 at Rideaucrest Home, at age 96.
Loving husband of the late Dorothea (Dolly) Jones, his wife of 66 years, cherished father of Linda. Predeceased by his brother Vernon and his wife Simone in South Wales, and uncle to Linda, David, Monnie, Alan, Donna, Paul, Gail and Steven.
Born in 1920 to Welsh-speaking parents in Dorrington, near Shrewsbury, England, he was christened Islwyn. He became known as Lynn and, later, Lyndon.
His father Thomas was a Congregational minister and after the posting to Shrewsbury, the family's early years were spent in Deddington, Oxfordshire, Pembrokeshire county and Pontypool, all in South Wales. Lynn, a noted pianist in his adult years, began lessons at seven, passing his final exams with honours.

As a young man in Britain, Lynn was an office worker, during which time he began to write up soccer games for the South Wales Echo newspaper. He joined the Royal Air Force at 18 at its recruiting centre in Newport, South Wales in 1940, giving up his job and his stint as a pianist in a dance band. He wanted to be a navigator on flying duties, but was denied this as he was colour-blind. He was assigned to Intelligence and joined a code and cypher unit. After his posting to the air base at Dumfries, Scotland, he worked in Air Intelligence. At Dumfries, Lynn got his chance to fly. He befriended a test pilot who took him along on several jobs.

In 1943, Lynn was sent overseas. At this point, he met Sgt. Les Matthews, who was to become a life-long friend. The destination was the Bahamas, but Draft 2745B sailed first to New York City. It was there he saw live the Benny Goodman Orchestra, one of his favourite Swing bands. Upon arrival in Nassau, Lynn and Les reported to Windsor Field. Intelligence work was important in Nassau since the U.S. was relying on the British and its colony to detect German U-boats close to U.S. and Caribbean shores. Lynn did more flying, producing reports on what aircrews saw.

RAF Nassau had a fabulous dance band, which Lynn joined as the pianist. The band played camp dances, hotels, the Duchess of Windsor's canteen and the Royal Victoria Hotel, which housed some Royal Canadian aircrew. One of those airmen, Harold Cumming, later became Lynn and Dolly's family doctor in Kingston. The Duke of Windsor had been appointed governor of the Bahamas during the Second World War. Lynn played piano at many of the duchess' afternoon teas.

At a Nassau house party, Lynn first met Dolly, whose family had settled in the Bahamas in the 1600s and 1700s. Lynn and Dolly were married in Nassau in 1946 and sailed for Britain. Their first daughter, a stillborn, was born in 1947 in Cardiff.

After struggling in post-war Britain, Lynn, Dolly and their dog Rex, sailed to the Bahamas, where their second daughter Linda was born in 1952. Lynn got a job at the Nassau Guardian newspaper, now owned by Canadian newspaper magnate Roy Thomson. Fred Davies, eldest son of Canadian Senator Rupert Davies, owner of the Kingston Whig-Standard, ran the paper and hired Lynn as his personal assistant.
When times got tough at the Nassau Guardian, Lynn moved to the local radio station ZNS. He ran a popular show called Let's Harmonize. Meanwhile, local businessmen bought the Nassau Guardian and Lynn returned to work again with Fred Davies. Lynn and Dolly moved back to Britain in 1955.

After two years in England, Lynn and Dolly emigrated to Canada, settling first in Trenton, Ont. A few years later, Lynn was hired as a reporter at the Kingston Whig-Standard by publisher Arthur Davies, who was glad to have another Welshman aboard. He became the wire editor, a position he held for 13 years. Lynn wrote two popular columns at the Whig - Looking Back and Military Notebook - and retired after 25 years in 1985.

He was an excellent musician, playing piano for years in the Lyn Jones Quintet, with Kingston's Big Swing Band and with Don McCallum and the Dixie 6 +1 until Lynn was 90. He was a member of Sydenham Street United Church and Cooke's-Portsmouth United Church. A member of three Masonic lodges, Lynn was politically active in the Kingston community, sang in several choral groups, and was honoured with many military and Royal Canadian Legion awards. In 1984, he visited the Normandy invasion beaches as a member of Vimy Officers' Educational Tour.

After retirement, Lynn and Dolly spent many happy winters holidaying in the Bahamas with Dolly's brother Buck, his wife Joan and their family, and with other Bahamian family and old friends.

Many thanks to those at Rideaucrest Home who looked after Lynn in his last six years, and in the time he spent alone and in mourning for his wife Dolly. Thanks also to his private caregivers, Margret, Nancy, Deborah, Erie and Anthony from Heart to Heart Seniors Services. All who met Lynn in his last few years were charmed by him and cared for him with love and affection.
The family asks that any donations be made to Cooke's-Portsmouth Church in Kingston. A memorial service will be held at a later date. Arrangements entrusted with Gordon F. Tompkins funeral home, Township chapel, Kingston, Ontario.
{fastsocialshare}