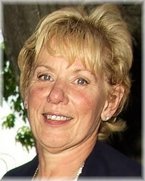 MULI, Louise Ann (Youngblood) - (March 31, 1945 - September 18, 2016) -

Louise enjoyed her life, and lived it well, with grace, strength and generosity. She was genuinely interested in others. She was always compassionate, sincere and she listened well. She shared life, memories and over 46 years with "Charlie".
She was a Mom first, loving, forgiving and wise… and also a supportive friend to her children Jenn (Chris Chanook) and Dave (Julie Muli). Grandma played, sang, danced, read and loved her grandkids, Lindsay, Megan, Caden and Isla. She will be remembered well by her siblings, her extended family, and her countless friends.
She left a legacy at KGH as a registered nurse for 30 years.
Patients, their families and her co-workers know of her skill, compassion and dedication. She was excellent at "finding the vein" and was just the same in her connections with people. As a patient, the respect and appreciation she earned was reciprocated.
Many people provided outstanding support to Louise and her family. Friends, medical staff, volunteers, family, and kind strangers offered courage, shared laughter and offered strength when it was most needed. Thank you.
Guests are encouraged to dress comfortably, and wear colour to celebrate Louise's life to be held in the Reception Centre of the James Reid funeral home, Kingston (Please enter from the rear parking lot), on Sunday, October 2nd, between 2:00 and 5:00 pm. Words of Remembrance will commence at 3:00 pm.
As expressions of sympathy, Louise asked that donations be made to Hospice Kingston's Residential Hospice Project or to your favourite charity.
{fastsocialshare}