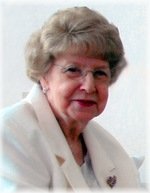 STEWART, Norma - Passed away on April 1, 2017.
Born in Brockville on June 2, 1921 to John and Jane (Barbour) Lyon. Norma's father was employed as the Chief Electrical Engineer on the Canadian National Railway line between Montreal and Toronto.
Norma had two older brothers, Hugh and Jim, both deceased and a surviving younger brother Jack who currently resides in Brockville.
The Lyon household followed their Scottish |Presbyterian ancestral Sunday activities with attendance at church in the morning, Sunday school in the afternoon, a drive in the country after Sunday school, Church service at night followed by hymn singing at home prior to going to bed. Norma was a graduate of BCI, after which she attended Brockville Business College.
The First Presbyterian Church played an important role throughout her entire life. Norma was baptized in the church, becoming a member in 1933 at the age of 14. She met her future husband, William (Bill) Stewart, at First Church Young Peoples and were married in the Church on May 23, 1942 by the Rec. Henry Cousins. Barbara Broadbent, a long time member and faithful friend of First Church sang at Norma and Bill's wedding. Both Norma and Bill became elders in the church on February 10, 1985.
Bill Stewart worked all his life for the Canadian National Railway retiring in 1980 as the Yard Master. Norma worked for 24 years with Sears Canada in Brockville starting as Assistant Manager and retired in 1980 as the Brockville Manager.
She was the dear mother of Craig (Barbara) of Brockville, Judy Flanigan (Jack) of Brockville and Bryan (Cynthia) of Newmarket, loving sister of Jack Lyon, and sister-in-law Margaret Gray.
Grandmother of Natalie Bellamy (Jeffrey) of Bradford, Tyler (Keri) Stewart of Cookstown, John Flanigan (Alicia), Julie Spero, Shawn Stewart (Lisa), and Angela Ballantyne (Darren) of Brockville. Great grandmother to Lucas and Blake Bellamy, Kendyll Spero, Stephen, Seth and Emerson Stewart , Macey and Brayden Ballantyne.
Norma will be greatly missed by the members of her family who now take comfort in the knowledge that she and Bill are finally together again after 25 years of separation.
Visitation will be held at the Irvine Funeral Home, 4 James Street East, Brockville on Saturday April 8th from 12:00 noon – 2:00 PM to be followed by a Service and Celebration of Norma's life at 2 pm.
In lieu of flowers the family would appreciate a donation to either St Lawrence Lodge or the Alzheimer Society.
{fastsocialshare}