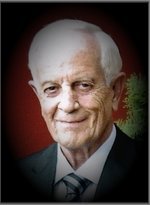 DAVIES, Brinley Moore 'Bryn' - (October 4, 1939 - September 10, 2017) -
Bryn, "Big B", Dad, Grandad, age 77, has gone to that great zamboni in the sky.
But what kind of name is Brinley anyway? Welsh, British? It doesn't matter: a half-century ago, Bryn chose Canada as his home and became thoroughly Canadian. He was Jennifer's husband of 52 years. Rebecca and Rachel's Dad, and for five years Grandad to Beatrix and Anja - not nearly long enough. And Richard and Adam weren't sons-in-law. They were sons.
Who was our Bryn/Dad? Three things come to mind. Number one was his charity and generosity. His home office desk was always a riot of charity direct mail, mostly humanitarian and animal causes. Second, though Bryn/Dad was a homebody, Canada is a big house! From Pelee, Baffin and Vancouver Islands to Newfoundland, Bryn/Dad crushed the Canada bucket-travel list. He was in love with his country. Third: his awe, respect, and love of animals is probably what we'll remember most.

He was an accomplished professional engineer, but admitted he'd first liked to have been a surgeon. The compassion and competence that he so revered in the medical profession was given to him end-of-life by Dr. Hari Vasan and nurses Lisa, Roy, Andrew, and Jean-Anne, and also Dr. Luigi Ricciardi and Dr. Sarah Giles. Our family is grateful to each one of you.

There's no funeral announcement to be made, because that was his wish. But you're heartily invited (that's shout out to you, Wanderers!) to Bryn's shin-dig/visitation this Friday, September 15th from 3 - 6pm, at Morgan Funeral Home, 415 Regent Street, Niagara-on-the-Lake.
#Arsenal #GunnerForever
Dad would've requested donations in his memory to MSF/Doctors without Borders Canada and the Ontario Society for the Protection of Animals.
Nosta, "Big B"

{fastsocialshare}