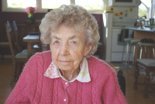 CROWTHER, Betty (Facey-Crowther) (nee Clarke) - (1918 - 2018) - On Friday, February 9, 2018.
Betty spent her childhood moving between summers on the farm in Vineland and winters in the city of Ottawa. Betty had a lifelong love of learning. She studied science at Queen's and met her late husband Ralph studying medicine at McGill.
She returned to Vineland shortly after she was married and remained there for the rest of her life.
She was an avid reader and travelled widely. She was a committed environmentalist and loved gardening and birdwatching. She and Ralph dedicated their lives to community service through fund-raising, volunteering and organizing many events including teas and raffles at Albright Manor, Museum of the Twenty, and Club of the Twenty Senior's Group, Girl Guides and annual bazaars for St. John's Anglican Church.
Betty was twice named Citizen of the Year and was awarded the Order of Niagara by the Anglican Church of Canada for outstanding volunteer work with St. John's Anglican church, Jordan.
The family would like to thank Albright Manor for their excellent and compassionate care of Betty during her time at the Manor and in her final days.
Betty is survived by her 4 children, Anne (Moe), Susan, Richard, (Lee-Anne), and Margie, (Bruce), grandchildren Christianna (James) and Julie, her great-grandchildren Savannah and Beatrix, her sister Kay McKeever and her nephew Rod MacFadyen.
The memorial service will be held at 10a.m., February 15th, at St. John's Anglican church in Jordan.
In lieu of flowers, donations can be made to the Parkinson Society of Canada or to The Owl Foundation. Arrangements entrusted with Tallman funeral homes.
{fastsocialshare}