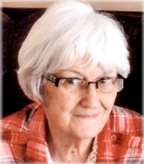 BRUSHETT, Gwendolyn Wade (Robson, Bailey) - Loving mother, grandmother and sister, gracefully and with complete peace, went to rejoice under the wings of angels and into her eternal life with her Heavenly Father, December 2, 2016.
Predeceased by her parents, John Henry Bailey (Roanoke, Virginia and Castleton, ON) and Thelma Rowles Adams Bailey, (Red Oak, Virginia and Castleton, ON), cherished brother, Rush Miller Bailey (Castleton, ON and Shawville, QC), daughter, Julie Anne Robson, seeker of the white Caribbean sand beneath her feet, and steadfast in her own will (Barbados WI and Bewdley, ON) brother-in-law, George Cameron (Millgrove, ON), First Love, Endless Love and First Husband, Peter Lawson Robson (Morganston, ON and Oshawa, ON) and Truly Devoted Second Husband, to the very last day of his life, Clarence William Brushett (Bonavista, NL and Bewdley, ON).
Survived by twin sister, Jacqueline Cameron, (Millgrove, ON), sister Catherine Dorsett & husband Scott Dorsett (Tulsa, Oklahoma) and brother Robert Bailey (Bewdley, ON), her three children, Peter Wade Robson (Castleton, ON), Hope Robson Harper (Baileboro, ON) and Heidi Robson Federico & husband Dale Federico (Campbellcoft, ON), Grandsons, Mitchell Cody Ward and Maxwell Peter William Federico, Granddaughters, Makaela Noel Wolsegger, Charity-Rain Kearnan and Hunter-Lacey Robson Harper.
Nieces & Nephews; Lisa, Cameron, Rachel, Katie, Faith, Jeremy, Tyler, Kai, Sophia & Anthony. Also part of her heart, sister-in-law, Brenda Bailey, son-in-law(s); John Mark Wolsegger (Oshawa, ON) and Jason Lance Harper (Williamsport, Maryland).
Also survived by three step-children, Debbie Kocsis (Chatham, ON), Robert Brushett & wife Kim Brushett (Bonavista, NL), Don Brushett (Belleville, ON) and grandchildren Brandee Hooper, Hailey Brushett, Brady Brushett, and great- granddaughter, Ryan Hooper and her forever, steadfast in her life, daughter-in-law, Aline Brushett.
Also close to her heart, Terry Kearnan and Kelly Meecham. Lovingly appreciated for their unending devotion and friendship, Tanya Eastman & Joanne Williamson.
Special heartfelt thanks to Dr. Colin Matheson, for his unending compassion expressed toward our Mother, his agreeance with her in praying for her miracle and his sensitivity to our family position on the end of life on earth, process. An additional thank you to palliative nurses, Kathy & Wil and Cindy for holding her hand at night in her room.
Her children are holding a private Graveside Service, at Gwen's request, in Castleton, ON.
Donations are gratefully accepted, to further continue Mom's vision for faith driven change in our world to the A21 Campaign (non-profit).
{fastsocialshare}