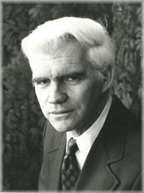 GRAY, John Russell 'Jack' - Born, Detroit Michigan, December 7, 1927, died, Port Hope, Ontario, February 23, 2017.
Beloved husband of Sandra Macdonald, loving parent with Araby Lockhart of John, Nicholas (Dorigen Fode), Rebecca , Susannah (Paul Irving), and Felix (Joanne Roy) and stepfather of Nathaniel and Harry (My Dinh Tra) Hodge.
Grandfather to Rowan, Brenna, Thyra, Dorigen, Wynne, Lucy, Molly, Liam and Emily.
The defining element of Jack's life was his love of and devotion to the power of words. He chose the writing life in his youth and never left it, although the particular form changed over time.
Journalism came first, beginning in high school and later, university, where studies frequently took second place to editing the school paper. He was editor of The Varsity at the University of Toronto. On graduation he went immediately to work at Maclean's magazine, where he was first a photo editor and moved on to features, many of which were great stories he loved to retell. He credited his editors at Maclean's with instilling a necessary humility by frequent red penciling "Nobody cares about your opinion, Gray. Stick to the facts".
Over time another thread began to take more prominence. He had been involved with various theatre groups over the years, sometimes as stage manager, occasionally a walk­ on, but increasingly as a writer of revues and plays. ln the mid-50 's he decided to take the plunge and make playwriting his career. It was the early days of Canadian theatres like The Crest, the Manitoba Theatre Centre, Neptune and others and he was one of the new wave of home grown dramatists to provide Canadian works for those stages. He began his lifelong work as a supporter and promoter of Canadian writing talent at this time. As for many other Canadian playwrights, CBC radio drama became a mainstay of his professional life.
In the early 60's London was mecca for many creative Canadians, Jack included. He moved with his young family to London where he had some of his plays produced, but worked more frequently writing television dramas. It was an exciting and rewarding period. Eventually, however, the call of home prevailed and the family moved back to Toronto.
Improving the opportunities in Canada for Canadian creators, particularly dramatists, became an increasing preoccupation and he played an active role in many organizations that shared the same goals, including the Canadian Theatre Centre, the Canadian Conference of the Arts, and ACTRA. He participated in several international bodies concerned with writers' rights and working conditions, including the International Alliance of Writers Guilds and the World Intellectual Property Organization. He was the first writer president of ACTRA from 1978 - 1981, and the prime mover in the creation of the Writers Guild of Canada which recently celebrated its 25th year. In 2002 he was given the WGC's "Writers Block Award for Service to Canadian Screenwriters". He was also very involved in the development of cultural policy and regulation, specifically as it concerned broadcasting and copyright, and was a frequent witness at regulatory hearings, parliamentary committees and task forces on these topics. He cared deeply about this work and took great pride in the accomplishments of his colleagues.
In his spare time, Jack was an avid collector, most notably of books and stamps.
He considered himself a lucky man to have spent a long and happy life doing what he loved.
In accordance with his wishes, there will not be a funeral; a few gatherings of friends to raise a toast and share a tale will be organized over the coming months.
{fastsocialshare}