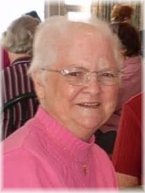 SMITH, Sister Jean (Sister Jean Marie) CSJ - The Congregation of the Sisters of St. Joseph in Canada, announces the death of our dear Sister Jean Smith at Mount St. Joseph, Peterborough, on March 19th, 2017.
Sr. Jean was born in Peterborough in 1932. Sr. Jean is predeceased by her parents, the late Stella (McMurray) and Clifford Smith and by her brother Bill. She is survived by her brother Jim of Peterborough and sister-in-law Debbie Smith, nephews Jim Jr., John and Shane Smith and niece Holly Godward, and several great nieces and nephews.
She is lovingly remembered by the members of her religious community, the Sisters of St. Joseph, and the many friends she made during her years of service to others. Sister Jean entered the Sisters of St. Joseph of Peterborough in February, 1949. During her religious life she had a varied life of ministry. She began teaching in Ottawa and for 28 years taught in numerous schools in Ontario (Almonte, Port Hope, Lindsay, Campbellford and Peterborough as Principal at St. Pius).
While teaching in Ottawa she was also Local Leader of Primrose Convent, 1968-71. From 1973 to 1976 she was full time Superior at Mount St. Joseph. Then she returned to teaching in Lindsay and Campbellford.
In 1984 Sister Jean was missioned to Martha House in Regina, Saskatchewan, a residence that provided support and care for single expectant mothers. There she became involved in the diocesan programme "New Beginnings". In 1987 she returned to the Mount to serve on Council and as Coordinator of Mount St. Joseph until 1995. She was also involved with the Associate community.
From 1995 to 2005 she ministered at the Mount Spirituality Centre, where she brought spiritual life and programs to hundreds who availed themselves of the opportunities provided. From 2005 onward she was a volunteer on the Board with St. Vincent de Paul Society. In 2012 she returned to the Mount for ministry with her Sisters. She is fondly remembered for her great sense of humour and joy in life.
In lieu of flowers, donations to The Mount Community Centre would be appreciated.
Visitation will be at Mount St. Joseph, 1555 Monaghan Road, Peterborough on Wednesday, March 22nd, 3:00 p.m. to 5:00 p.m. and 6:00 p.m. to 8:00 p.m.
The Mass of Christian Burial will be celebrated on Thursday, March 23rd at 11:00 a.m. at Mount St. Joseph Chapel. This will be followed by interment at Highland Park Cemetery, Peterborough. Arrangements entrusted with Comstock-Kaye Life Celebration Centre.
{fastsocialshare}