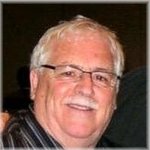 MARINO, Dr. Robert Vincent 'Bob' - (August 25, 1938 - July 9, 2017) -
With great sadness, the family of Robert (Bob) Vincent Marino announces his passing on Sunday, July 9, 2017, at University Hospital in London, Ontario, in his 79th year.
Beloved father of Robert (Megan) and Samuel (Paulette), grandfather "Poppa" to Kirsi, Lorenza, Nora, Esmee and Reid, and close friend and former husband of Susan Birnie Marino.
Will be dearly missed by sisters Antonia Rosebush (Ward), Dorothy Williams (Lenny), Barbara Chapman (Robert), Joanne Marino and Patricia Damianopoulos (Tom), and by many cousins, nieces and nephews.
Thanks to close friends and family for their ongoing love and friendship over the years and during his recent illness.
Bob was born on August 25, 1938 in Peterborough, Ontario to Anthony and Christina Marino, and into a large and close family, who were always proud of their strong Italian roots. He grew up among the many relatives and friends coming and going to and from his home at 182 Lake Street in Peterborough where hospitality and his father Tony's cooking were famous. He ran with the "Lake Street boys", relished the position as the only son and brother in a Canadian-Italian family, and graduated from St. Peter's High School.
He entered the Redemptorist Junior Seminary in Brockville, pursuing his vocation to become a Catholic priest, which he credited for steering him in the direction of higher education and lifelong learning. He transferred to Holy Redeemer College in Windsor, achieved his Bachelor of Arts in 1961, and then graduated with a Bachelor of Sacramental Theology in 1964, after spending his 3rd year in Italy, studying and becoming proficient in the Italian language.
Bob was ordained a Redemptorist Catholic priest in 1964. He believed his formation and experience as a priest cultivated his passion for community development, multilingualism and multiculturalism and diversity in the Canadian culture. His first parish assignment at St. Patrick's Catholic Church in the Kensington Market area of Toronto was with the Portuguese community. During this time he spent several months living in Portugal in order to better serve this community in their own language and culture. His influence and reputation in this community led to his involvement in the Kensington Market area politics and social development in the late 1960s.
In 1968, Bob left the priesthood. He entered the University of Toronto, School of Social Work, from which he graduated with both a Master's degree and later a PhD in 1984. He married Susan Catherine Birnie in 1970. During this period, he became the Director of COSTI, a multicultural agency providing services to new Canadians and their families and was formative in developing expanded educational and vocational services there.
Together with Susan and their young son Robert, Bob moved to London, Ontario in 1977. Here he became an Associate Professor and later the Director of Social Work at the University of Western Ontario, King's College. In 1979, Bob and Sue welcomed their second son Samuel. During his tenure at King's University College, Bob developed an interest in international education before retiring in 2004. During these years Bob became known for his fabulous cooking, his homemade wine, the annual "Spaghettata" prepared with Lino Canzona for their colleagues, and frankly, made the best meals that anyone had ever tasted.
After retiring from Kings, Bob moved back to Peterborough, then returned to London five years ago, desiring to be closer to his grandchildren, making sure they became aware of their Italian heritage, gardening with them, and teaching them to make homemade pasta, and "zeppole" at Christmas. He continued his pursuit of lifelong learning, and during the past few years, in addition to studying Islam, he added to his proficiency in five languages and studied ancient Greek, wishing to be able to read the Bible in its original Greek form. He enjoyed his many philosophical chats with his friends, family and colleagues right to the end. Bob did not suffer a long illness having only recently been diagnosed with cancer and then unexpectedly suffering a stroke in June. Thanks to his many friends and colleagues who provided much support and love during his illness.
Bob was particularly proud of his sons Robert and Sam, whom he believed grew up with their unique view of the world, determined to lead value-based lives in their vocations and as husbands and fathers. Bob lived a full life and at the end expressed gratitude for his life, for the many opportunities to have learned and in turn to have taught, and for his many relationships.
His ashes will be transported to Peterborough where visitation will be held at the DUFFUS FUNERAL HOME, 431 George Street South on Friday, July 14th from 10:00 am to 12:30 pm.
A funeral mass will follow at SACRED HEART CATHOLIC CHURCH, 208 Romaine Street, Peterborough at 1 pm. Interment will take place following the mass at St. Peter's Cemetery in Peterborough. A reception will also be held at the Navy Association at 24 Whitlaw St. in Peterborough starting at 2:30pm.
There will also be a memorial in London for family, friends and colleagues at King's University College at a future date TBA.
In lieu of flowers, to honour Bob's life, donations may be made to Hospice Peterborough, 439 Rubidge St, K9H 4E4, Peterborough, Ontario.
{fastsocialshare}