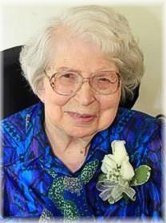 VOLTNER, Sister Vianney (VLADIMIRA VOLTNER) CSJ - The Congregation of the Sisters of St. Joseph in Canada, announces the death of our dear Sister Vianney Voltner at Mount St. Joseph, Peterborough, on February 6th, 2018.
Sr. Vianney was born in Pitin, Czechoslovakia in 1926.
She was one of nine children and after coming to Canada was raised in Viking, Alberta.

Sr. Vianney is predeceased by her parents, the late Frances (Sukanova) and Vladimir Voltner as well as her brothers Frank, and Joe and her sister Mary (Ruzicka).
She is survived by her brothers Vernon, Stanley (Leona), Charles (Barb) and her sisters Emilia/Milly (Benson), and Frances (Pelz), as well as many nieces and nephews.
She is lovingly remembered by the members of her religious community, the Sisters of St. Joseph in Canada.
Vladimira entered the Sisters of St. Joseph of Peterborough in 1945.
Sr. Vianney's first mission assignment was at St. Vincent's Orphanage.
She began her teaching career in Almonte and taught in schools in Ottawa, Port Hope and Peterborough.
She was a true Westerner and spent most of her teaching years in Alberta (Wainright, Edmonton, Clandonald), and in British Colombia (Prince George, Burns Lake) as well as in the Northwest Territories (Snowdrift).
Her next ministry was in the field of Health Care for fifteen years.
She was engaged in Pastoral Care in Vermilion AB, and ministry with seniors in Edmonton. She returned to Mount St. Joseph in Peterborough in 2006.

She is remembered for her many talents in cooking, sewing and other handwork. She knitted profusely for the Red Cross.
She was a woman who lived in gratitude.
Visitation will be at Mount St. Joseph, 1555 Monaghan Road, on Thursday February 8th, 2018, 3:00 p.m. to 4:30 p.m. and 6:00 p.m. to 7:30 p.m.
The Mass of Christian Burial will be celebrated on Friday February 9th at 11.00 a.m. at Mount St. Joseph Chapel.
{fastsocialshare}