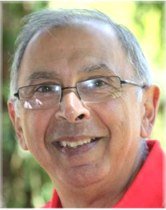 THOMAS, Norman Paul "Jiddu" - November 19, 1942 – October 9, 2018 - Despite a 12 month battle with lymphoma, Norman (aka Jiddu) remained an optimist making the best of a difficult situation.
His great sense of humour brought joy to everyone around him. Norman always remained playful, engaging and curious.
The lives he touched and the people who were part of his extended family are too numerous to count.
Norman was ever-present whether in a lively debate or in simply helping with homework. His compassion, quest for learning, and desire to experience life inspired many around him and will continue to live on in his children and grandchildren.
Survived by his loving wife of 48 years, Jeannette Thomas (Demers); his three children Jeanninne (Ron) Young, Neville (Kerry George), Sharlene (Chris) Maietta; as well as his beloved grandchildren Jeanne, Emilie, James, Sarin, Nathan, Sophie-Anne, Isabel, Jacquelene, Chloë, Celeste, and Timothy. Norman will be dearly missed by his father-in-law Orien Demers; brothers-in-law, Yvon (Betty) Demers, Gerry (Kathy) Demers; and sisters-in-law, Patricia (Terry) Demers and Donna Kelly.
Visitation will be at G.H. Hogle Funeral home, Toronto on Friday October 12 (2-4, 6-9). A funeral Mass will be held on Saturday October 13, at 10:00 am, at Saint Patrick's Parish, 921 Flagship Dr, Mississauga.
In lieu of flowers, donations may be made to the Children's Wish Foundation of Canada.
{fastsocialshare