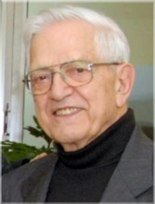 RYAN, S.J., Fr. William F. - Peacefully, at the age of 92, Bill Ryan, a Jesuit priest, died at home (René Goupil House, Pickering, Ontario) on September 8, 2017.
He was in his 73rd year as a Jesuit and 60th year as a priest.
With a doctorate in economics from Harvard, he was the first director of the Center of Concern in Washington, DC.
During this time, he served as the Executive Secretary for the Interfaith Coalition (Muslims, Christians and Jews).
He worked as the General Secretary of the Canadian Bishops' Conference and founder of the Jesuit Forum for Social Faith and Justice.
He was elected to the General Congregation of the Jesuits in 1974 which oriented the Jesuits to the promotion of a faith that does justice and served as Provincial Superior of the Jesuits in English Canada.
At the Jesuit Forum, he wrote a number of handbooks and conducted countless seminars to help participants hear the call to promote justice, to live within limits and to care for the Earth, our common home. Dealing with cancer, he moved to René Goupil House in Pickering, Ontario, where he lived out the last few months of his life surrounded by Jesuits and friends.
There will be a wake and prayers from 7-9 p.m. (Service at 8 p.m.) on Thursday, September 14th at the St. Ignatius Chapel, Manresa Spiritual Renewal Centre, 2325 Liverpool Road North, Pickering, Ontario.
Friends may also call at the Rosar-Morrison Funeral Home, 467 Sherbourne Stree, on Friday, September 15th from 2-4 and 7-9 p.m.
Mass of the Resurrection will be celebrated at Our Lady of Lourdes Church (Sherbourne and Wellesley) in Toronto, on Saturday, September 16th at 9 a.m. with interment at the Jesuit Cemetery in Guelph at 2 p.m.
In memory of Bill Ryan, donations may be made to the Jesuit Forum, 70 St. Mary Street, Toronto, ON M5S 1J3.
{fastsocialshare}