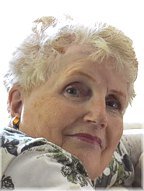 WEBER, Hannelore - Left this world on September 27, 2017 after a short, but courageous battle with cancer.
Hannelore leaves behind her devoted husband Andrew of 60 years of marriage.
Her children Sue(Stephen), Marianne (Gary), Barbara (Mike), Margaret (Brent), Mike (Kerri), and the late Andrew.
Hannelore was the adored Oma to Kristen (Ryan), Scott, Austin, Ally, Jessica, Garett, Lauren, Julia, Mariah, Sarah, Abigail, Emily, Alex, Aidan and Zoe.
Hannelore was also a sister, aunt and friend to many people she deeply cherished.
Hannelore was born in Hannover, Germany to Johanna and Wilhelm who died in the war. She later immigrated to Canada when she was 18 with her parents, the late Johanna and Helmut, and siblings Heidi (Vince), Gabi, Helmut (Liz) and the late Renate (Joe).
Hannelore met Andrew at a dance in Sudbury. Andrew prided himself on having a fancy car. Once he spotted this beautiful red head he knew he had a passenger for life. They fell in love and so the story goes, a large family, a house in the suburbs and a dog named Scamp.
Hannelore and Andrew had a love of travelling that spanned many miles and destinations. They created memories through their 60 years of marriage, a testament to their commitment to each other.

What we will remember and cherish the most about our Mom was she taught us all to have an opinion and to have strength especially when confronted with a challenge. Her determination of life will stay with us and the unconditional love only a parent can give has been engrained in each of us.
Mom you have given us courage which we will all need as our journey of life goes on without you. Dad will miss you immensely. Your fiery spirit and devotion will be cherished forever and you will be forever in our hearts.
Visitation will be held at the DESTEFANO FUNERAL HOME, 1289 Keith Ross Drive, Oshawa (south side of Taunton Road, east of Thornton Road by the Oshawa Airport) 905-440-3595 on Wednesday, October 4th from 7:00-9:00pm.
A Funeral Service will be held at Grace Lutheran Church, 540 Cromwell Avenue, Oshawa on Thursday, October 5th at 11:00am with visitation at the church from 10:00-11:00am.
A private family interment will take place.
In memory of Hannelore, donations may be made to Hearth Place Cancer Support Centre, Oshawa or to Lutheran World Relief.
Memories may be shared at destefanofuneralhomes.ca

Don't wait for me, go on ahead.
I need to sit for awhile.
My strength is gone, my pain is over,
My new journey has just begun.
Don't let that stop your smile,
Continue down the road,
Don't look back-look forward.
My legacy lives on in each of you.
{fastsocialshare}