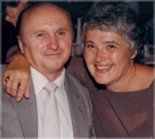 PERTSCHY, Rose - Rose, spouse and best friend of Matthias for over 60 years, entered heaven's gates on September 7, 2016.
Rose was passionate about the simple things: gardening, baking, wood-working with Matt, sewing, treasure trolling, cooking, music, family events and road trips. She is most famous for her gingerbread, mohn strudel, spaetzle and goulasch.
Rose had unwavering faith in God. He guided her steps in life. She was a member of St. Gregory's in Cambridge.
Rose leaves behind her spouse, Matthias, daughter Sylvia and her husband Dave Proctor, her grandchildren Emery (Adam), Jordan (Samantha) and her great grandson Lincoln, as well as David's children Rachel and Nicole, nephews Martin (Donna) and Joe, and all of their children and families.
Rose was born in Budapest, Hungary, and then moved to Backnang, Germany. There she leaves her brothers Josef (Elfriede), Martin (Gisela) and Stefan (Kate), along with their families and many friends here at home and abroad. She asks us to think of her from time to time.
She is predeceased by her sister Maria Gelenyi.
Cared for at home by Matt, her every wish came true. Our family gives thanks to everyone who assisted with Rose's care. We express our greatest gratitude.
In Rose's memory, donations made to the Cambridge Memorial Hospital or the Canadian Cancer Society would be appreciated.
Psalm 48:14 'For this God is our God for ever and ever, He will be our guide to the end.'
{fastsocialshare}