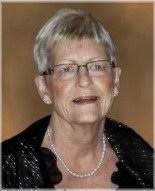 GRILLS, Cynthia (nee Brenner) - of Kitchener passed away at Grand River Hospital on Sunday, October 2, 2016 following post surgical complications.
Cynthia was a former resident of Brantford and owner of Maple Leaf Ropes.
She is predeceased by her husband Ian (1993) and parents Paul and Terese Brenner.
Remembered with great love by siblings Louise Lane (Dave 2013), Philip Brenner (Janet) and Kathy Manzo (Louie); nieces Lisa, Lesley (John); Lindsay (Rob), nephew Louie (Tammy); and many great-nieces and great-nephews.
Cynthia had a very special place in her heart for great-niece Brynn who could make her smile even on her worst days; her loving cat Farley; and nephew dog Cheech.
Cynthia loved to eat out and shop, shop, shop – though those passions and others were curtailed over the last several years due to worsening health (but she never lost her appetite for Toblerone chocolate bars). She will be remembered for her flair, sense of humour and friendly, outgoing nature – she always had a smile for everyone – even when it was difficult.
Special thanks to CarePartners workers especially Abe; ICU staff Heather, Sherry and Rebecca; and everyone who tried to make life easier for Cynthia – especially over the last few difficult years.
In lieu of flowers or donations, please make an effort to spend time with someone who needs love and companionship.
Cremation has taken place. A Funeral Mass to celebrate Cynthia and guide her on her way will be held Tuesday, October 11, 2016 at 10:30 a.m. at St. Mark's Catholic Church, 55 Driftwood Dr, Kitchener. Arrangements, Henry Walser Funeral Home.

A sister is a little bit of childhood that can never be lost. - Marion C. Garretty
Luv you.

{fastsocialshare}