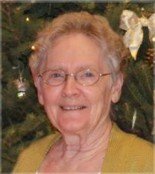 TONNER, Bernice - (March 14, 1935 - January 10, 2018) - 'Lived with dignity, died with grace.' - Under a clear, star filled early morning sky on January 10 our beloved Mother, Grandmother, Great Grandmother and dear friend passed away in peace.
We shared her last days together honoured to remember and celebrate the end of a remarkable life.
Mom passed away surrounded by the love of family, friends and the kindness and compassion of the staff and volunteers at Lisaard House. Words cannot express our gratitude for the quality of care Mom received. Thank you.
Bernice Tonner (nee Chappell) was born on the family farm along the shore of the Saugeen River in Burgoyne, ON.
She moved to Galt (Cambridge),ON at the age of 18 to study nursing. It was during this time that she met and eventually married Bernard (Tuck) Tonner who passed away in 1996.
Mom was a member of the first graduating class of nurses from the Galt Teaching Hospital in 1956. This began her lifetime commitment and service to helping others. To the end Mom was proud of her time as both an ER and OR nurse. As our family grew Mom's primary focus centred upon raising her children – and what a crew we were! Eventually Mom settled into a second career and the role many in the community remember her as 'The Tupperware Lady'. For decades to follow the name Bernice Tonner was synonymous with Tupperware.

Mom is lovingly missed and survived by her five children and their families: Tim and Christie, Teri, Heather, Mark and Lisa, Ken and Lisa, including 13 grandchildren: Kate, Sarah, Emma, Reid, Josh and Yvette, Erin and Matt, Amy, Allison and Anthony, Jordan, Kurt, Tom, Kiya and Kaliegh, and 4 great grandchildren: Myles, Tristan, Victoria and Reese. Bernice is also survived by her sister Verona and husband Dr Peter West of London, ON.

Our family looks forward to greeting you and welcomes you to a memorial visitation on Friday, January 19, 2018 from 2:00-4:00pm and 7:00-9:00pm at Corbett funeral home, Cambridge, ON. A memorial service and celebration of Mom's life will be held on Saturday, January 20, 2018 at 2:00pm at Wesley United Church, 6 Cambridge St, Cambridge, ON. The celebration and shared stories will continue with a reception at Wesley United Church immediately following the service.

On behalf and in memory of Bernice Tonner donations to Lisaard House are warmly welcomed.

'Remembered fondly and forever – memories make us immortal.'
{fastsocialshare}