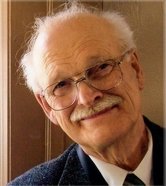 RUSSELL, Arthur James 'Art' - It is with great sadness we announce the passing of Arthur (Art) James Russell, 83 of Fergus Ontario with his family by his side.
Greatly missed by his wife Bunny, daughters Dianne Boonstra, Erin Portelli and son-in law Gord Portelli, three Grandchildren, one Great Grandchild and Bunny's siblings.
Meteorology, his life long career was only one of his passions, besides Algonquin Park, trains, cruises, playing bridge, loving nature, the church choir and Melville United membership. A man of great integrity, friend to all, Art had an easy going 'glass is half full' attitude towards life. A dear man, he will be greatly missed.
A celebration of life will be held Friday, July 13th at 2:00 pm, with a visitation at 1:00 pm at Melville United church, located at 300 St. Andrew St. West in Fergus, Ontario.
In lieu of flowers please kindly send a donation to Melville United church.