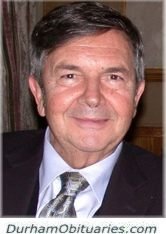 BULAT, Vladimir (Vlado) Bulat - March 6, 1934 to January 27, 2019

Passed away peacefully surrounded by his family.
Vlado was a devoted husband to his beloved wife of 56 years Miroslava (Mira), a loving father to Drazen (Maria), Mark (Rosanne), and Katarina (Christopher), and a lovely and caring Dido to Alexandra, Laura, Josephine, Kaitlyn, Luka, and Isla.

Vlado was a humble, quiet, gentle man with a sharp wit and sparkly deep brown eyes.
He enjoyed reading, puzzles, and a good laugh - particularly where puns were involved - and was a master of 'dad jokes'.
He appreciated good food and drink, especially beer!
He loved travelling to beaches and trips home to Croatia.

Vlado had two brothers and he grew up in Osijek, Croatia.
He moved to a small city near Zagreb when he married Mira in 1962.
Vlado worked as an electrical engineer, and in 1974 the family, which by then included two young boys, arrived in Canada in 1974 with some suitcases and not much else. The young family settled in Scarborough where they welcomed a daughter. Vlado continued working as an engineer and the family moved to Markham, and then Mira and Vlado eventually moved to Whitby.
Vlado was a trailblazer, wonderful soul and a beautiful man. We will miss him dearly.

A visitation will take place at MOUNT LAWN FUNERAL HOME & CEMETERY (21 Garrard Rd., Whitby) on Thursday January 31st from 3:00-5:00 p.m. and 7:00-9:00 p.m. A funeral service will be held at Holy Family Catholic Church (91 Ribblesdale Dr., Whitby) on Friday February 1st at 10:30 a.m. Entombment to follow at Resurrection Catholic Cemetery (355 Taunton Rd. E, Whitby).

In lieu of flowers, the family is asking for donations to be made to The Denise House (thedenisehouse.com).
{fastsocialshare}