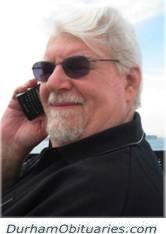 TUNNEY, David Roberts - May 9 1946 - May 24 2019
It is with great sadness that the family of David Tunney announces his sudden passing on Friday May 24, 2019 at the age of 73 years.
He was the son of the late Mabel (Doreen) Tunney and the late Gordon Tunney.
Young David grew up frequenting the silver screen where his love of western movies blossomed.
During his rebellious teenage years he enjoyed racing with his friends up and down Davis Drive in Newmarket, adorned with the eras greaser style, blue jeans and black shirt, (a fashion choice he maintained).
The impact of these cars of his youth remained a constant love throughout his life.
During the beginning of his illustrious career, Dave was introduced through mutual friends to Annette, to which he easily fell in love with, and promptly married.
David's ambitious drive pushed him to success. Tirelessly working, he was a self -made man advancing in his education all while holding down numerous jobs and raising his growing family.
His professional stardom has been unmatched, as he became the youngest Second Class Engineer and then world renowned as a top First Class Stationary Engineer.
His in depth knowledge of his profession enabled him to teach evening courses at George Brown College, where he impressed and molded the minds of future generations of engineers.
Despite his hectic work life, he always managed to savor the tranquil moments where he was able to relax and enjoy his family and cottage up on Turtle Lake.
He had a passion for being involved in his sons' interests and had an active role in their sports by becoming their hockey coach and being on the committee for baseball. Raising the boys he taught them his work ethic, and encouraged them to continue their education, trying to ensure they reach their own success.
As his family grew to include his beloved grandchildren, he made sure that his involvement in their lives was just as prominent. Dance recitals, hockey practice, and family trips, he thrived in their company.
Dave was a man with a firey passion for politics and world history. Loaded with a knowledge that was unmatched by any history book; he was an endless and useful source for many a debate or inquiry. He was a man with a presence that couldn't be ignored, and an influential pillar of the family. For all the lives he touched along the way, there will forever be a void. Husband, brother, father, grandfather and friend, Dave will be deeply missed.
David will be lovingly remembered by his wife of 48 years Annette (nee Tupholme), sister Donna (Barry), children Paul (Patty), Richard (Victoria), Glen (Lisa), and forever be immortalized within the memory of his three grandchildren Hayley, Ryan and Raven.
An open celebration of life will be held at DESTEFANO FUNERAL HOME, 1289 Keith Ross Drive, Oshawa (sout side of Taunton Road, east of Thornton Road by the Oshawa Airport) 905-440-3595 on Friday, May 31st from 5:00pm to 8:00pm.
In lieu of flowers, donations can be made to the Heart and Stroke Foundation.
Memories may be shared at destefanofuneralhomes.ca.

{fastsocialshare}