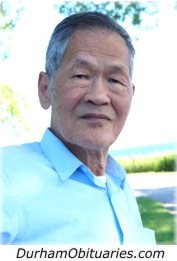 SETO, Hoing Seto - September 18, 1936 - February 4, 2020
It is with heavy hearts that we announce the peaceful passing of Hoing Seto (司徒褔舉) on February 4, 2020.
He is survived by his wife of over 50 years Tse-Ling, his children Fabian (Corrine) and Susan (Emma) and his grandson Alexander.
Hoing was born in Hoiping Kwang-Tung China, the youngest of three siblings.
He emigrated to Canada as a young man at the age of 14 with the assistance of his Uncle Seto Ying of Bowmanville.
He worked in restaurants in Woodstock and Bowmanville before settling in Oshawa. Upon settling in Oshawa he became a partner in The Globe Restaurant.
After retiring in 2001, he enjoyed a simple life, enjoying walks along the Oshawa Bike Path, watching the stock market, going to weekly Dim Sum and watching the horse races.
He enjoyed a few trips to Hong Kong to visit his family. One of the highlights of his trips was visiting his home village in Hoiping, with his brother and sister, brother-in-law, wife, daughter and niece. He also visited and enjoyed seeing the Great Wall and Beijing.
In his later years his greatest enjoyment was spending time with his grandson.
Hoing will be missed by his friends and extended family from the Seto, Wong, Buchanan, Bennett, Tran and Le families.
The family would like to thank staff from the LHIN Home and Community Care, Cancer Care Durham, the Emergency Room and Palliative Care at Lakeridge Health Oshawa and the Emergency and Paramedic Service of Durham Region.
Visitation will be held at THORNTON CEMETERY, CREMATION & FUNERAL CENTRE, Oshawa on Saturday, Feb 15th from 9:00 AM - 11:00 AM followed by the service and interment.
Online condolences may be left HERE.

{fastsocialshare}