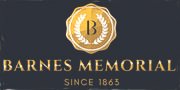 CHAPMAN, Nicola Elaine Grant Chapman - November 16, 1972 – October 25, 2021

Nicola was born in a small town in England on Novembe 16, 1972 to her loving parents Carl and Merva Grant.
She is survived by her husband Greg Chapman, sister Deborah, nephew Matthew, Aunts Yvonne and Jean, Cousins Colin, Samantha, Karen, Therese, stepsons Drew and Brad and adoring grandchildren Lucas and Lauren.

Memorial visitation is being held at BARNES MEMORIAL FUNERAL HOME Ltd. on Saturday May 7th 2022 from 10:00 – 11:00 a.m.
A Memorial Celebration of Life will follow in the Barnes Chapel at 11:00 a.m.