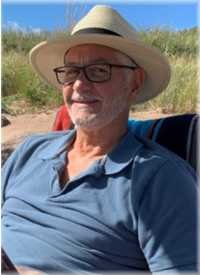 JONES, Jerry Ross - MAY 29, 1959 – JULY 13, 2022
One of the finest people to ever live is no longer with us. Jerry Jones, the love of Tracey's life and best friend of 32 years, passed away at home on July 13, 2022, six weeks after receiving a brain cancer diagnosis.
He was a beloved father to Zachary and Matthew, brother, uncle, colleague and friend to all who knew him.
As a teacher with the Durham District School Board, Jerry left a lasting impact and touched the lives of the many students that were fortunate enough to spend a year in his classroom.
Throughout his career, he was also an admired coach of soccer, basketball, volleyball, and track.
Over the years he enjoyed attending concerts, Maple Leafs and Blue Jays games with his two sons. Jerry was the biggest fan of his two boys, always keeping count of Matt's saves in net for hockey or watching Zack reach a new personal best on the track.
Time spent at a lake or on a beach in Prince Edward Island became a favourite place to relax and enjoy a glass of wine or two.
When Jerry was not in the kitchen creating one of his many famous dishes for family and friends, he could be found in his backyard sipping on a whiskey, occasionally enjoying a cigar, and sharing stories by the fire.
In retirement, swimming became a new passion of his, and he loved nothing more than challenging himself to swim more laps in the fast lane as he trained to participate in the "Big Swim", a 14km crossing of the Northumberland Strait.
Jerry will be remembered for his easy-going nature, big heart and his willingness to help the people he met. He was, in every moment of his life, kind, sincere and loving to everyone. His thoughtfulness and patience will always be cherished by all who had the good fortune of knowing him.
The world has lost a sweet and gentle soul, and Jerry will be forever missed by all of us.
Celebration of life will be held at a later date.
In lieu of flowers, we ask that a memorial contribution be made to the Gord Downie Fund for Brain Cancer Research - Sunnybrook Foundation.
Online condolences may be made at courticefuneralchapel.com .
{fastsocialshare}