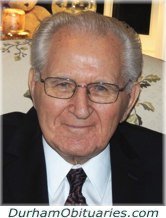 TAYLOR, John (Jack) Thomas - September 3, 1920 - January 4, 2018
Passed peacefully at Lakeridge Health Centre as he welcomed in his 98th new year - surrounded by his loving children David (Nancy), Katie (Neil), Joan and John (Sandra) and his devoted grandchildren Robin, Jacquelin (Greg), Chris, Mike (Krissy), Taylor, Kevan, Liam, Reid, Lucas and Madeline.
Jack was predeceased by his beloved wife Adrienne, his beautiful son Christopher, his twin siblings Norma and Bill, and his "favourite" sister-in-law Pat.
Jack was one of the greatest members of our country's "greatest generation".
Born in 1920, he grew up an Irish Catholic teenager during the depression in Toronto.
Like so many of his friends, he volunteered for the Canadian forces during World War II. Serving oversees until early 1946, he was a decorated soldier in the 8th and 30th Light Anti-Aircraft Regiments, ultimately rising to the rank of Captain. Jack was also an accomplished musician - playing the clarinet, the violin and the saxophone (and sometimes handling lead vocals) in a Toronto dance band.
It was at an after hours house party - and a couple of drinks - that he met Adrienne (the evening's baby sitter) in 1952. Jack loved to tell the story of how he searched high and low for her in the steno pool at Bell Canada knowing only her first name. He eventually found her, they fell in love, married in 1953, had five children and lived happily ever after for 57 years until Adrienne's passing in 2010.
Jack's business career started in his teens, with an impressive 200 household multi-branded paper route in the Riverdale area of Toronto. After the war, he was quickly snapped up by Goodyear Tire and Rubber Company where his legendary common sense and strong people skills saw him rise through the ranks, becoming Personnel Manager at Goodyear in New Toronto and eventually Personnel Manager and then Plant Manager at the special products plant in Bowmanville, Ontario.
Jack was also a gifted athlete. Like so many young men, he was an avid hockey player, apparently qualifying to play for the Toronto Junior Marlies at age 15, but not able to follow through given the demands of his paper route! He took up tennis as well, and excelled at doubles - often entering the Canadian Open when it was held at the Toronto Lawn Tennis Club - and claiming to have once "taken a set" from Canada's Davis Cup team. In his adult life, Jack continued with his love for hockey, volunteering as a referee for the CYO in Oshawa and in tennis as a club doubles team member at both the Toronto Lawn and Oshawa Tennis Clubs.
Jack was a man well loved throughout a life well lived. His gregarious personality, huge heart and fabulous sense of humour will be missed by all.
The family would like to extend its most sincere thanks to the incredible women who have cared for Jack (and Adrienne) for over a decade, including Ann, Mayla, Indra, Arlene, Cathy, Rohini and Ro, among others!
The family would also like to thank the outstanding nursing staff on 6C at the Lakeridge Health Centre in Oshawa who ensured that Jack's final days were as peaceful and pleasant as possible.
Jack's family and friends will gather to celebrate his remarkable life at a future date.
Anyone wishing to help honour Jack's life is encouraged to make a donation to SickKids Hospital, where his son Christopher was so well cared for so many years ago.
Arrangements entrusted to OSHAWA FUNERAL HOME, 847 King Street West (905-721-1234).
Online condolences may be made at oshawafuneralhome.com.
{fastsocialshare}