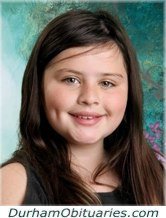 GORHAM, Jorja - With very heavy hearts, we need to let you know that with her parents by her side, Jorja's journey here on earth ended, at Sick Kids Hospital, on January 31, 2018 at the age of 11.
But as many people have sung before... Jorja is always on my mind.
Much loved daughter of David & Jodi. Loving sister of Davis.
She will be missed by her four-legged best buddy, Oakley.
Cherished granddaughter of Judy (Dan) Taylor, Mark Thompson, Margaretann Gorham, and Robert Gorham (Lito) and great-grandaughter of Georgina Penney and Marie Thompson.
Adored niece of Wesley Thompson, Jennifer (Steve) Dickerson, Luke Thompson (Stacy), Chris Gorham and Nicole Gorham – Elder (Darren). She will be fondly remembered and missed by her cousins, Kyla, Lana, Chelsea, Josh, Jax, and Jolan.
She will be remembered for her exuberant personality, her passion for helping others, her love of art, being a part of many sports teams, and being truly able to express her thoughts and feelings while making things happen her way.
She inspired and connected so many communities and is remembered as being AWESOME!
Visitation for those who knew Jorja personally (friends of Jorja and those who have relationships with her) will be held at the GARNET B. RICKARD RECREATION COMPLEX, 2440 Hwy 2, Bowmanville, on Wednesday February 7th from 4 – 8 pm.
All are welcome to attend the Memorial Tribute on Thursday February 8th at the TRIBUTE COMMUNITIES CENTRE, 99 Athol St. E., Oshawa, at 11 am with a Celebration in Jorja's memory to follow.
Memorial donations, if desired, may be made to a Memorial Trust Fund that has been setup by Jorja's family. Further details will be made available as soon as possible.
Arrangements are entrusted with NORTHCUTT ELLIOTT FUNERAL HOME, 53 Division Street, Bowmanville.