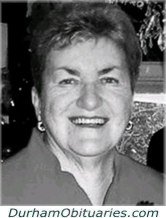 THOMAS, Patricia Anne (nee SULLIVAN) - June 23, 1940 - February 2, 2018
A loving mother, sister, grandmother and wife – Patricia left us quietly and was surrounded by family and friends for the final part of her journey during the last 11 days of her life at Chartwell Wynfield Long Term Care.
She battled hard to achieve her last goal and she joined her husband, Don, who predeceased her only a few short months previously.
They now rest in peace together and join their eldest daughter, Karen, who left us in 2001.
Patricia was surrounded by a strong family and friends circle for her entire life and would be pleased to know that is exactly how her story ended as well.
Patricia leaves behind a wonderful list of longtime friends, as well as her sister (Kathy) and brother (Michael). Her grandchildren: Mark, Michelle (Will), Nicole, Kelly and step-grandkids Brianna and Reilly -- will all miss the love and support she provided to them over many years.
Her daughter and son-in-law, Donna and Rob (Robertson) are numb at the loss of two parents in 4 months.
At her wish, Patricia will be cremated, with a private celebration of life at a later date. In support of her parents' Alzheimer's journey, Donna is establishing a "Legacy Program" for seniors requiring specialized care through her business, Evolution Support Services.
This was in conjunction with her parents wishes.
Donations to support these Legacy Programs (that will begin in 2018), can be sent to: Evolution Support Services, 2727 Courtice Rd., Ste 98015, Courtice, ON L1E 3A2 or e-transfer to: This email address is being protected from spambots. You need JavaScript enabled to view it..