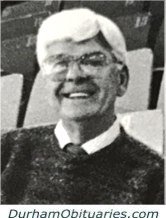 KURELO, Wasyl "Bill" - (January 9, 1924 - February 13, 2018)
Passed away peacefully on Tuesday February 13, 2018 at Sunnybrook Veterans Centre, Toronto in his 95th year with family and grandsons by his side.
Beloved husband to Helen MacDonald (predeceased) and brother George (predeceased).
Loving father of Randy (Barb), Ronald (Wendy), Rick (Marlene).
Cherished grandchildren and great grandchildren Jennifer, Tyler and Aleshia (Brody & Kohl), Derek and Kaylan (Expecting baby girl Apr 2018).
Bill was a Veteran of The Royal Canadian Army Medical Corp 1943-1946, 7 Field Ambulance Combat Veterian; overseas Service Volunteer and was wounded in action.
Bill was a long time resident of Oshawa. Born in Cedardale January 9th, 1924. Bill Kurelo was a "PILLAR in our Community". He started coaching Minor Hockey in 1952, was President for 9 years, before becoming a Life member in 1962.
Bill was Director of the Civic Auditorium and area arenas until his retirement in 1989.
He was Founding Member of the Oshawa Green Gaels Lacrosse Club, Director of Oshawa Sports Hall of Fame, Director of Oshawa Generals Junior A Hockey Club and Executive member of Legionaires Junior B Hockey Club.
Bill collaborated in the production of two books "The Oshawa Generals 1 & 2". His 25 year collection of over 1300 photographs that commemorated the Sport and Entertainment History of Oshawa were promently displayed throughout the Civic Auditorium for all to enjoy.
As an active Lifetime Member of Branch #43 of the Royal Canadian Legion. Bill was a member of Wedgewood Fishing Club for many years. He was respectfully nicknamed the "COLONEL". His love for fishing and spending time with great friends.
Also remembered for his FAMOUS Dill pickles called "BILLS DILLS". Loved by all. Also Pidgeon River were he spent fishing and story telling to his Grandsons Tyler & Derek were his favouritepastimes. Memories they will always treasure.
Papa's famous quote to them was: Laugh at least "ONCE" everyday.
Many thanks to Sunnybrook Medical staff for their outstanding care.
At Bill's request there will be no Funeral Service.
A Celebration of Life to be held on Sunday, May 6th, 2018 from 2-4 pm at ROYAL CANADIAN LEGION Branch #43, 471 Simcoe Street South, Oshawa for all Family & Friends.
Arrangements entrusted to OSHAWA FUNERAL HOME , 847 King Street West (905-721-1234).
Memorial donations to the Last Post Fund.
Online condolences may be made to oshawafuneralhome.com.

LEST WE FORGET.