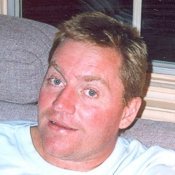 DRURY, Paul Robert - (August 28, 1964 - October 8, 2018)
Detective Sergeant Paul Robert Drury was a proud police officer for the Toronto Police Service for 34 years. He wore many hats and was highly accomplished and respected by his colleagues and members of the community.
Despite having a job that was often serious, our Dad managed to bring his big, bright, presence into every professional situation he entered.
Our Dad was a loving, handful of a husband, the goofiest, most dedicated parent, a passionate coach, and the funniest guy at every table. He was always plotting an adventure for us and our friends, and he couldn't sit still for more than five minutes.
Our Dad often held up a tough guy facade, but our house was home to many rescue dogs throughout my childhood who apparently "just looked at him" and he couldn't say no, and was always an emotional wreck during sad movies.
Our Dad's parents and little brother, David, were always and always will be so proud of the accomplished person he was.
Our Dad's in-laws would describe him as a complete handful, but loved him as if he were their own son.
Ask any member of our family, close friends, strangers, fellow police officers, and I guaruntee you will hear some sort of funny, ridiculous memory with our Dad.
Our Dad had such a big spirit that you could feel whenever you were with him, and his absence is so apparent. We'll miss that silly guy every single day, but we know he's proud of us. We find comfort in the fact that we know our Dad is still cheering us on, even if he's not here with us.
Written by Kristin & Nolan Drury
Visitation at Glen Oaks funeral home, 3164 Ninth Line, Oakville on October 11th from 6 - 8pm, and on October 12th from 2 - 4pm and 6 - 8pm. Funeral Service will be held in the funeral home on October 13th at 3:00 p.m.
In memory of Paul, donations may be made to Toronto Police Widows and Orphans Fund. Donations may be made by mail or phone.
Mail to: Toronto Police Widows and Orphans Fund, 2075 Kennedy Road, Suite 200, Toronto, Ontario, M1T 3V3
By phone: please contact Nicole Arokium, Executive Assistant, Toronto Police Widows and Orphans Fund, at 416 502 8711.