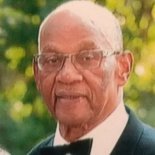 PLUMMER, Richard Albert - Richard Albert Plummer passed away peacefully at the age of 95 on Wednesday, October 17, 2018 at Trillium Health Centre.
Much loved and respected by his family. Richard was a devoted husband to Rola May Plummer (nee Angus) for 53 years.
Loving and devoted father, brother, grandfather, great-grandfather, uncle, cousin and friend to many.
As a member of the British Royal Airforce Bomber Command crew in World War II, Richard and crew mutually relied on and served each other. In like manner, he relied on the heartfelt love, care and dedication he received from his crew of family, friends and caregivers.
Visitation will be held at the Glen Oaks Funeral Home, 3164 Ninth Line, Oakville, Ontario on Thursday, October 25th from 6 - 9 p.m. and Friday, October 26th from 10 a.m. - 11 a.m. The celebration of Richard's life will be held in the funeral home chapel on Friday, October 26th at 11 a.m. Burial to follow at the Glen Oaks Cemetery.