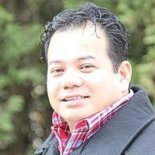 CELESTIAL, Sonny Bagui - (August 29, 1971 - October 16, 2018) - Died suddenly in the hospital on October 16, 2018, surrounded by his loving wife Elsa and his whole Canadian family.
Sonny was born in the Philippines on August 29, 1971. Sonny was predeceased by his parents (Gabriel and Dominga Celestial and his infant sister). Sonny was the second oldest of 6 children: Danilo, Julie (Barte), Alex, Gina and Fredie.
Sonny worked in UAE for 15 years and then came to Canada where he was finally reunited with his beautiful wife, Elsa in October of 2011.
Sonny was a very hard worker, holding down a full time job at Whole Foods and a part time job at the Oakville YMCA. He was a respected and loved member of their teams.
Sonny had a huge heart and an amazing laugh. He was loved by all who met him. He was generous, happy and kind. He grew to love dogs and was known to all his Oakville neighbours who he would meet on his daily long walks with his favorite dog, Sam.
Sonny was extremely proud when he became a Canadian citizen in April 2017. He and Elsa had the largest group of supporters cheering them on at the ceremony! He had a very large "Canadian (Howard/Baillie) family" and each and every one of them are heartbroken by his passing.
We will remember his smile, his sense of humour, the ice cream cones he liked to feed our dogs and his cheerful, positive attitude.
Thank you to the staff at the Oakville Trafalgar Hospital ICU and to all of the friends and family who gave so much support over the past few days.
Visitation will take place at Kopriva Taylor Community Funeral Home, 64 Lakeshore Rd. West, Oakville on Sunday October 21st from 2:00 - 4:00pm.
Elsa will be flying Sonny home to the Philippines to be laid to rest. In lieu of flowers or gifts, contributions towards these significant costs would be greatly appreciated. Cheques made out to Jennifer Kravis or Etransfer to This email address is being protected from spambots. You need JavaScript enabled to view it..