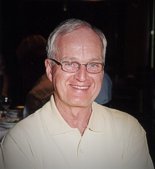 HOOPER, Bob - (March 11, 1939 - October 17, 2018) - After an incredible life lived to its fullest, Bob passed away suddenly in Ancaster, Ontario at the age of 79.
Bob leaves behind a rich legacy of love of family, travel, great friends, leadership and mentoring others.
Missing him deeply are his wife Carmela Hooper (nee Ciotti), his children Susan Holden, Julie (Mick) Mann, Christina (Justin) Mulder and Justin (Jennifer) Beattie.
Bob was adored by his grandchildren Brandon (Melissa) Holden, Mitchel Mann, Cameron, Emma and Gabriella Mulder. He had also been blessed with two great grandchildren, Pearl and Pascha Cameron-Holden.
He was the cherished and loved son-in-law of Nella Ciotti and the loved brother-in-law of Tony (Marie) Ciotti with their son Dustin. Bob is also survived by his children Wendy and Rob and by his sister Kathy with niece and nephew Lisa LaPointe (John Klepko) and D.J. LaPointe. Bob was predeceased by his loving mother Olga Hooper, brother Denis Hooper and by beloved great-granddaughter Pearl.
Bob was a legendary broadcaster with 900 CHML in Hamilton, joining in 1961 and spending over 40 years with the station showing his versatility as a newscaster, handling talk shows, producing musical programming and eventually serving as Vice President. He also worked for decades on the Hamilton Tiger Cats broadcasts as statistician and producer and then as the play-by-play voice on CHML from 1997 to 2001. Bob followed that as media relations director for the TiCats for two seasons before finally retiring from football in 2004.
His enduring love of football is fondly remembered by his loving family who will deeply miss his antics while watching Football Night in Canada.
Bob loved the simple things in life. He was an avid gardener, travelling all over Ontario to get that special plant, waging war on the weeds and feeding the chipmunks. He was a model train enthusiast, a hobby shared with his son-in-law Mick. He spent many happy weeks each year in Florida with his family, playing in the pool, enjoying the sun, the tradition of having breakfast alone with the grandkids and watching the sunset on the beach with Carm. Bob loved playing with his grand-kids, being silly and making them laugh.
Visitation will be held at Bay Gardens Funeral Home, 947 Rymal Road East, Hamilton on Tuesday, October 23rd from 2:00 - 4:00 pm and 6:00 – 8:00 pm. The family asks those who wish to share fond memories to come in the evening to share with everyone.
The funeral will be at 11am, Wednesday October 24th at St. John's Anglican Church, 272 Wilson Street E., Ancaster.
In lieu of flowers donations are respectfully requested by the family to any of The Parkinson's Society of Canada, Ronald MacDonald House Children's Charities, Toronto or Open Doors of St. Christopher's, 662 Guelph Line, Burlington.