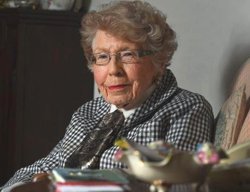 JONES, Anne Hamilton - Anne Hamilton Jones passed away peacefully on September 20th, 2019 after a wonderful and full life, in her 101st year.
Predeceased by her husband the Reverend Aubrey Jones, son-in-law Michael Zebroski, sister Jessie Vaxvick and brothers Sandy, Jimmy and Robert Macpherson.
Much loved by son Rory (Judi), daughter Elizabeth O'Brien (Tom), grandchildren Ashleigh (Adam), Alastair (Becky), Jennifer, Kristin, Heather and Sarah, great-grandchildren Clark, Grant and William, sister Mary Vaxvick, many nieces and nephews, her extended Mansfield, O'Brien and Zebroski families and her dear friend Erna Boehling.
Anne was born August 12, 1919 in Scotland. She arrived in Canada at age 6 and spent her formative years in rural Don Mills, Ontario. She received multiple scholarships allowing her to attend Victoria College, University of Toronto, earning a BA in modern languages.
Anne was very involved in leadership roles in the United Church, with Young People's, Women's and Community groups until her husband's sudden death in January 1962 leaving her with two young children; Rory age 9 and Elizabeth age 2.
Despite this tragedy Anne proudly raised her children, continued her husband's ecumenical work and lecture series while becoming a Life Insurance Agent for Canada Life Assurance Company; achieving the designation of Chartered Life Underwriter (CLU). She was the first woman to be awarded the John Tory Gold Medal for the highest marks throughout Canada for her CLU.
Simultaneously, she was encouraged by a consortium of local businessmen to enter municipal politics, which began her honourable political career. Starting in 1962 Anne proudly represented the City of Hamilton in municipal politics for a total of 23 years; two terms as Alderman for Ward One, four terms on the Board of Control as Deputy Mayor and in 1973 she was appointed the first Chairman of the Regional Municipality of Hamilton-Wentworth by the Province of Ontario. She was re-elected by her peers on Regional Council for three additional terms, retiring from municipal politics in 1985.
Anne was inducted into the Hamilton Gallery of Distinction, received a Woman of Distinction Award and was appointed as Honourary Police Chief in addition to other numerous honours and distinctions. She was Chairman of the Ontario Municipal Employee System (OMERS), Vice - Chairman of GO Transit, served on the Board of Governors of Mohawk College, McMaster University, St. Joseph's and Hamilton General Hospital, and held executive membership on numerous other boards both provincially and locally.
She founded the Hamilton D.A.R.T.'s system, the Hamilton Prayer Breakfast and brought the emergency 911 response system to this city. She finished her career as the Chairman of the Ontario Film Review Board and an opinion writer for the Hamilton Spectator.
Anne was a trail blazer for women and a visionary for Hamilton, the Province of Ontario and Canada.
A celebration of Anne's life will be announced at a later date. Arrangements with Bay Gardens funeral home, Hamilton.
In lieu of flowers, memorial contributions to Rygiel Home, the Hamilton Burlington SPCA or a charity of your choice would be sincerely appreciated by the family.
Many thanks to her Idlewyld and Caroline Place Families and to Louise Carter for their support in her final years.
{fastsocialshare}