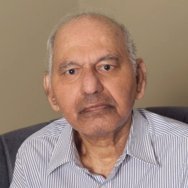 PENDALA, Krishnamurthy - (July 10, 1939 - November 4, 2019) - With great sadness and wonderful memories, we announce that Krishnamurthy Pendala passed away peacefully at home.
Survived by his loving wife of 51 years, Venkumamba (nee Daggubati), daughter Bindu (Gordon Cudjoe), son Amar (Rachel Johns) and grandchildren Anjali, Ashok, Ronan, Ameya and Eashan
Missed by his family and friends throughout the world as a brother, brother-in-law, uncle, cousin and dear friend.
He will be remembered as a kind and good man who put his family above all else; a loving father who gave his children everything they needed to grow and set the example for them to live by; a grandfather who sparkled with his grandchildren and tended to them with great care; a dear husband and a well respected leader who was fair and humble.
Dad lived a full and interesting life. An adventurer, he left India in 1963 to come to Montreal QC and then worked across Canada from Schefferville QC to Sparwood BC, settling in Calgary AB for over 30 years, and then Oakville ON for the last 12 years.
An intellect, Dad was the first high school graduate from his district in India and went on to get two master's degrees in Geology and then later became an engineer. Following retirement, he became an investor and was wrapped up in raising his grandchildren.
Passionate about politics, principled and always concerned with doing what's right, gregarious and generous to a fault, he could never say no to someone in need and passed on that spirit of generosity to us.
Even in his final days, with his mind and body failing him despite Mom's loving care and tending, as he battled dementia and Parkinson's disease, Dad's kindness, unconditional love and sweet soul continued to shine through. We love you and will miss you.
Arrangements entrusted with Glen Oaks funeral home, Oakville.
{fastsocialshare}