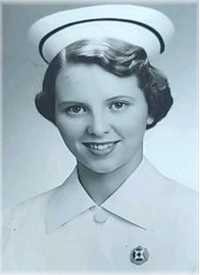 BELGUE, Eileen - Wife, mother, nurse and friend, passed away Monday, May 9, 2022, at the age of 88, after a sudden and short battle with Lymphoma.
Daughter of Albert and Margaret Mullan, Eileen spent her life doing what she loved with family, friends and colleagues.
She was introduced by her brother, Albert, to the love of her life, Harry.
One cannot speak to the depth of her love for Harry, and his love for her.
They were apart for only a handful of days over their 66 years together.
Together they proudly raised four boys: Stephen (Michelle), Paul (Erika), John (Julie) and Bill (Stacy).
Eileen was blessed to see her grandchildren grow up and will be missed by Michael (Jacqueline), Jeffrey (Brittany), Vanessa (Dan), Mike (Ashley), Ryan (Niamh), Kate, Graydon, Ben and Jack, along with her five great-grandchildren: Quinn, Cooper, Charlie, Wesley and Oaklee.
A Registered Nurse for 44 years, primarily at Scarborough General Hospital, Eileen was dedicated to helping others.
A Celebration of Life will be held on June 25, 2022 from 2:00 to 5:00 p.m. at the Ballantrae Golf and Country Club Recreation Centre, 1 Final Round, Stouffville, Ontario L4A 1N3.
In lieu of flowers, donations may be sent to the Canadian Cancer Society (www.cancer.ca) or Evergreen Hospice Markham, Stouffville, Thornhill (www.evgcares.org).