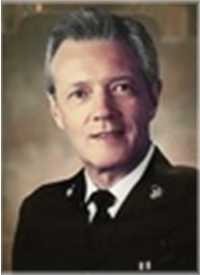 TAVENER, William - "In a world where you can be anything be kind."
William "Bill" Tavener passed away in Grand Bend on Friday, July 29, 2022.
Bill Tavener was the beloved husband and best friend to Elaine (Campbell); loving father of Richard (Amy) and Richelle (Robert) Allen; cherished grandfather of granddaughter, Q Tavener; and grandson, Vaughn Allen.
Bill will be missed by his nieces, Nancy Lovett and Kim Noel (Brendan); and nephews, Graham (Ginny) Pike and Drew Tavener.
Predeceased by brothers, Fred, Harvey, Peter; and sisters, Lil and Lucy.
Bill had a long career in law enforcement.
A Police Officer in Metro Toronto, Peel Region and as an Instructor at the Ontario Police College retiring in 1994.
After retirement, he taught Police Foundations and Paralegal at Westerveld College in London.
Bill will be remembered for his dedication to fitness and health, working out at the Grand Bend gym, keeping his home and surroundings in meticulous condition and for his unending devotion to his family.
His family meant everything to him.
His little dog, Maxie will miss his walks and cuddles.
In keeping with Bill's wishes, his cremains will be privately laid to rest at a later date.
In lieu of flowers, please donate to the Ontario SPCA, 16586 Woodbine Ave, Stouffville, ON L4A 9Z9.