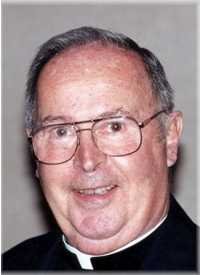 O'TOOLE, Rev. Thomas Charles, S.F.M., - 1927-2022 We lament the passing of Fr. Thomas Charles O'Toole, SFM, who died on Friday, November 18, 2022, at 2:25 p.m., at Presentation Manor, Scarborough, Ontario.
He was 95 years of age.
Born in Toronto, Ontario, on October 3, 1927, Fr. Tom was the son of John Joseph and Adeline (nee Boylan) O'Toole; and stepmother, Mary Eva (nee Sullivan) O'Toole.
He had an older brother, Lawrence, who died in childhood; one sister, Jane; as well as three stepbrothers, John Harding, Rev. Thomas Robert Harding, and Rev. William Harding.
Fr. Tom attended St. James Separate School (1934–1938), St. Vincent de Paul Separate School (1938–1939), the Cathedral Choir School (1940) and St. Michael's High School (1941-1946).
He entered Scarboro Missions Novitiate in 1948, and studied at St. Francis Xavier Seminary (1948-55).
He was ordained to the priesthood for Scarboro Missions on December 8, 1954, at St. Ann's Church in Toronto, by Bishop Kenneth Turner, SFM. After his ordination, Fr. Tom was appointed to mission in Japan, where his initial two years were dedicated to studying Japanese in language school (1955-57).
He then served in various parishes, first as curate (1957-58) and as pastor (1958-59) in Ichinomiya; and as pastor in Fukuoka (1959-63); Kawatana (1963-69), and Mizunami (1970-76).
Serving as a missionary in a country where the majority of people are Shinto or Buddhist, and less than two percent are of the Christian faith is challenging.
Fr. Tom was very involved in the Lions Club as an opportunity to meet people outside the church. In a 1969 issue of Scarboro Missions magazine, he wrote: "The basic principles of the Lions Club are Christian, and if I can help by my cooperation and show a genuine willingness to help the community with my limited experience and knowledge, my membership in the Lions and genuine Christian witness are one."
Returning to Canada, Fr. Tom worked for two terms as Director of Scarboro Missions' Promotion Department (1977-82), and then took a sabbatical year in 1983, participating in the Maryknoll Mission Renewal Program.
Fr. Tom returned to Japan to serve at St. Mary's International School in Tokyo (1984-1988), ending 24 years of service in Japan. In Canada, Fr. Tom was appointed Treasurer General of the Society for two terms (1989-1996). He retired from administrative duties in 1997 and went to live at Fraser Acres, Scarboro Missions' rural house in Omemee, Ontario, as house coordinator. Like many Scarboro missioners who had served in Japan, Fr. Tom accompanied the Toronto Japanese Catholic Community as chaplain for many years.
The group gathered once a month at Scarboro Missions to celebrate mass in Japanese, and then enjoy dinner together. Fr. Tom will be remembered for his kindness and steadfastness, for his ironic wit, for his love of a 'wee dram' of whiskey at the end of the day and for his deep enjoyment of rural life at Fraser Acres.
Fr. Tom was predeceased by his parents and stepmother; his brother, Lawrence O'Toole; and stepbrothers, John Harding, Rev. Thomas Robert Harding and Rev. William Harding. He is survived by his sister, Jane (late Harold) Bowen; her five daughters, Ann Marie (Dennis) Cordotta, Elaine Bowen, Frances (Leonard) Daigle, Catherine (Greg) O'Leary, Maureen Bowen; two grandnephews; two grandnieces; and two great-grandnieces.
We wish to express our sincere thanks to the staff of Presentation Manor and Canadian Religious Stewardship for their compassionate care for Fr. Tom over the past years. May God bless you in your health ministry of comforting the sick.
The Mass of the Resurrection will be held on Friday, November 25, 2022, at 10:30 a.m. at Presentation Manor Senior Living Chapel, 61 Fairfax Crescent, Scarborough, Ontario.
Following the Mass, there will be an Interment at Mount Hope Cemetery, 305 Erskine Ave., in Toronto.