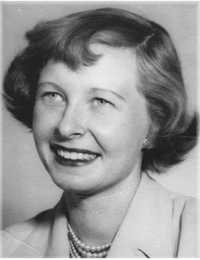 SPAFFORD, Eva Isabella - One month shy of her 99th birthday, our beloved mother passed on November 16, 2022, at Mackenzie Health after a rapid decline.
The last of the Greatest Generation of both the Watt and Spafford families, Eve is together at last with her true love, Ron Spafford (2011).
Eve leaves behind her daughters, Jill Huhta and Jennifer Lesurf (Michael); grandchildren, Matti Huhta (Cam Wright), Jeremy Huhta, Joanna Lesurf and Rob Lesurf; nieces and nephews on both sides of the pond; and was special G-G to Charlie Wright.
Born in London, Eve lived through the Blitz and The War, and in 1944 met and married her RAF pilot, Ron.
In 1945, she arrived in Toronto and spent a full, happy life with our dad, her girls, dogs, friends and the enormous Spafford family. Eve was feisty and funny, fiercely independent and stubborn.
She would say "I'm British, I'm tough," and then dance a little jig in her walker. Eve and Ron were both long-time members of Holy Trinity Anglican Church in Thornhill, and golfed and curled at the Thornhill Country Club.
Our thanks to the staff at the Glynnwood and to everyone who took care of our mother in her final days; especially her favourite nurse, Aziz. In lieu of flowers, a donation to Eve's favourite charity, Ontario SPCA, or a Charity of Your Choice would be appreciated. Cremation has taken place. A Celebration of Life will be held in the future.