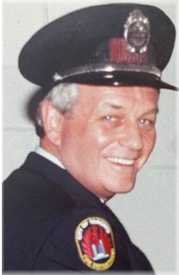 CUNNINGHAM, David James - July 28, 1938 - January 16, 2023
Born on July 28, 1938, in East York to loving parents, Michael and Isabella Cunningham.
David passed away peacefully on January 16, 2023.
Beloved husband and best friend to his devoted wife, Lillian Cunningham. Predeceased by his son, Mark.
Devoted grandfather to Katie, Zoe, Weidi and Samantha; and dear brother to Eleanor Jones. He will be greatly missed by his in-laws, nieces, nephews, cousins, and all the many family and friends who loved him dearly.
David was a proud 35-year veteran of the Toronto Fire Services, retiring as a District Chief in 1996. He enjoyed golfing in the summer and skiing in the winter, and the many friends he made along the way.
David was a much-loved neighbour, always offering a smile and a helping hand. He will be sadly missed by all, and warmly remembered by the many stories he loved to share. A special thank you to his niece, Catherine; her husband, James; and their children, Noah and Mairin, for their love and devotion, especially during this difficult time.
A Visitation for David will be held at The Evangelical Lutheran Church of Saint Matthew, located at 3159 Lawrence Ave. E., Scarborough, on Saturday, January 21, 2023, at 9:30 a.m., with a Funeral Service to follow at 11:00 a.m.
In lieu of flowers, donations may be made to the Canadian Cancer Research Society, Scarborough General Hospital or St. Matthew's Evangelical Lutheran Church.